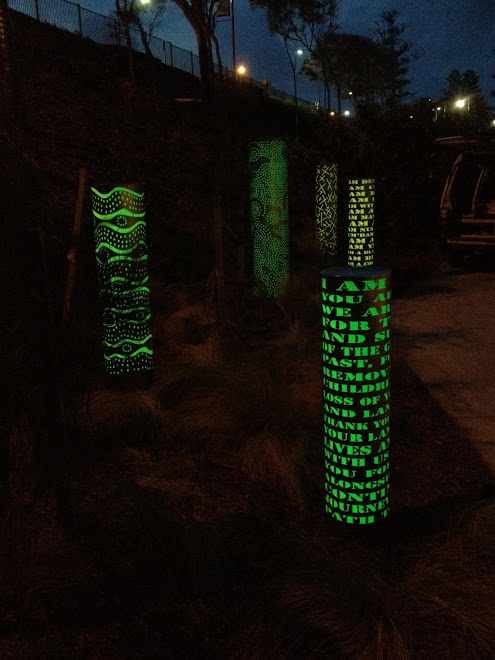 Bianca Beetson is a Gubbi Gubbi/Kabi Kabi (Sunshine Coast) Waradjuri (NSW) woman, Born in Roma Western Qld. She completed a Bachelor of Arts Visual arts at the Queensland University of Technology from 1993 – 95 and Completed her Honours in 1998.
Bianca's is a visual artist who works in a broad range of media including: painting, drawing, sculpture, installation, photography and public art.
In 1997 Bianca was selected for the Primavera exhibition at the MCA in Sydney. In 1997 Bianca won her first art award; The Anglican Church Grammar school Old Boys Association Encouragement award for artists under 25. As a member of the Campfire Group – Aboriginal artist's co-operation, she has had the opportunity to be involved in many projects based on cultural collaboration. Including "All Stock Must Go" which was included in the 2nd Asia Pacific Triennial at the Queensland Art Gallery in 1996-97. In 2007 Bianca had her first Solo exhibition in Melbourne at the Australian Dreaming art gallery. In 2008 Bianca won the People's Choice Award in the Wilson HTM National Art prize. In 2011 Bianca won the 15 Artists – Redcliffe art prize. Bianca has work in public and private collections around Australian and Overseas including Art Bank, QPAT, Redcliffe Art Gallery and Qld Art Gallery. Bianca was a formerly a member of the ProppaNOW Aboriginal artists Collective between the years of 2004 – 2011.
For more information please visit the – Artist Website
Image: Story Poles (2011)  Stainless steel with LCD lighting. Redcliffe Foreshore Public Art Trail
"Stretching along the landscape features of Charlish Park, Story Poles tells the traditional and contemporary stories of the local Kabi Kabi (Gubbi Gubbi) people. These stories, both written and visual, have been used by the artist as design elements that represent notions of place and connection to country."