DEADLINE

: 30th August, 2015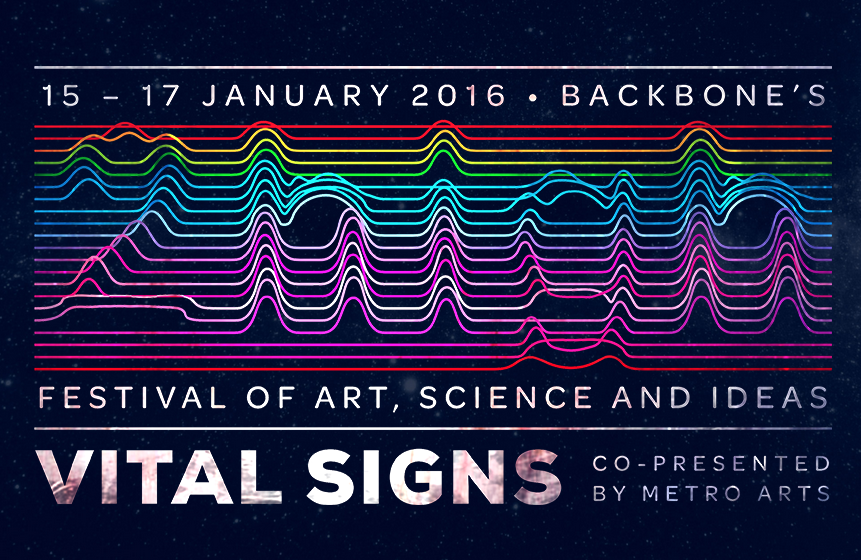 Over 3 days in January 2016, Backbone's 2high Festival will inject Brisbane's home of independence – Metro Arts – full of music, performance, art and arguments. Play music that bids hearts to beat. Manifest theatre that exposes the bone. Instigate arguments that makes the blood run hot & erode the wall between art and science.
This year's festival team have been inspired by the political climate surrounding arts funding, and the surge of national conversations that have lead to the uncovering of truth and questioning what we have been told to believe. We have investigated our importance as artists and scientists. We have grown to understand and appreciate the value of our voice and sharing our ideas – loudly and with pride: as much as we listen to and amplify the voices that remain silenced. We believe it is integral that we keep our finger on the pulse of our diverse community, our present, our art.
Backbone's 2high Festival Team has spent the past few months learning, scheming and dreaming up the next incarnation of this 23 year old Brisbane tradition. We are ready for artists & scientists to come with us on this journey toward making a festival that matters to you – to us – and to our audiences.
Here is a bit of background info to help you understand the key areas of the festival program this year. There are four main program areas; Music, Science, Feminism and Performance. Each area is multi-artform. So if you are a visual artist, or a musician, or a theatre maker for example – your work is relevant to each program stream. We want to hear from you which program speaks to you as an artist.
Scientists – we want to include you in as many areas of the festival as is relevant. We'd love to hear about artistic expressions of scientific theory which you may have already developed for other purposes and would be interested in displaying/exhibiting/performing/discussing. We're also interested in creating new works of collaborative ideas where we will find an artist to partner you up with and we can go from there.
Collaborations – there is also a section for individuals who are just keen to create work with someone, scientist, artist or both – if you don't have a crew to work with but are keen to explore some ideas and get something happening to present at the festival in creative development/idea development mode – then this section is for you.
Music
The Music Program of the Backbone 2high Festival is more than just a typical gig. Artists involved in this program will have the opportunity to create a unique experience for audiences. The program seeks to facilitate creative collaborations between artists of different mediums, and also allow artists to present a new performance/work.
Who are we looking for?
• Solo/Duo acoustic musicians
• Bands
• Composers/Music Ensembles
• Fashion Designers
• Visual Artists
• Poets/Writers
Performance
Strip back to the bare bones of performance. Dance, Circus & Theatre artists of all ages – this is for you. The program is interested in highlighting heightened body-focused performance styles to focus on the skill of the performer and bring an emphasis on communication through the body. If you only had use of the bare essentials of theatre – what story would you tell?
Who are we looking for?
• Independent Performers
• Independent Theatre Companies
• Youth Arts Companies working with diverse artists
• Visual Artists
Let's make this fun. Here's some challenges to performing artists:
• Performances are limited to 30 minutes running time.
• You may use of one type of prop, or multiples of that prop
• We want to see a revelation of a tattoo on at least one performer (does not need to be a real tattoo)
Youth Arts Companies
We are interested in providing a friendly, professional environment for youth arts companies to present work. Youth Arts Companies are welcome and invited to submit performance works outside of this framework, and are encouraged to present their current work by young people.
The F-Word (feminism):
Feminism: an important and sometimes inflammatory "f-word" in 2015. The F-word program seeks to open up a dialogue about feminism through performance, discussion and art.
Who are we looking for?
F-word wants to hear from artists from any artform who are feminists of any gender with work discussing intersectional feminist topics including:
• people from gender and sexual minority groups
• people from culturally and linguistically diverse backgrounds
• people who battle physical, intellectual or mental health disability
• people who wish to discuss the intersection of these issues
Science
This year, for the first time, the 2high festival will include a science program. We are looking for artists who are interested in exploring what science is, looking deeply into both the known and unknown. This program will aim to erode the wall between science and art through a number of focuses:
• Bringing scientists and artists together to collaborate on new ventures
• Illuminating areas where science and art routinely interact
• Igniting a sense of curiosity in the people of Brisbane
• Giving a platform to minority groups and voices in science who experience prejudice due to cultural background, religion, gender and/or culture.
Project Challenges
• The work must be an artistic technique/style exploring a theme/idea/discovery from science
• The aim is not to be superficially informative, instead it must be looking deeper into the science itself.
For more information please visit the – Website