DEADLINE

: 24th July, 2017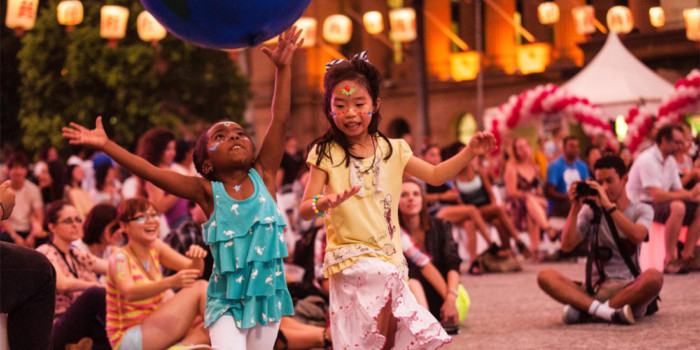 Brisbane City Council's Creative Communities team is seeking Expressions of Interests (EOIs) for a producer, creative collective or cultural organisation to program and deliver the Creative Sector Development Program for BrisAsia Festival 2018.
BrisAsia Festival 2018
BrisAsia Festival (the Festival) is an annual festival that showcases contemporary and traditional Asian arts and cultural programs and events. The overall program provides professional and sector development opportunities for Brisbane-based creatives with a strong interest in the Asian region and associated creative practice.
The Festival aims to:
provide opportunities for Brisbane residents and visitors to access, experience and celebrate Asian inspired culture including but not limited to arts, language, philosophy and cuisine
advocate for and engage Brisbane's culturally and linguistically diverse communities
provide professional and creative sector development opportunities for Brisbane-based creatives to present Asian influenced products that are not stereotypical of Asian culture
leverage partnerships and explore business opportunities through arts and cultural programs
bridge cultural differences and develop respect, understanding and inclusion by creating opportunities to understand, communicate with, and connect to people across cultures
highlight the contribution and influence Asian culture has had on Brisbane's lifestyle
reinforce unique qualities of individual and under-represented Asian cultures and communities.
The Festival will consist of three programs: Contemporary, Community and Creative Sector Development.  An overall theme will guide concepts across all three programs.
Creative Sector Development Program 
The Creative Sector Development Program will be a broad reaching series of professional development events and activity for creative practitioners. The program will create opportunities for artists to engage in business collaborations, international exchanges, networking, mentoring, developing creative enterprises and audience development.
The program will deliver:
large forums and debates
new partnerships across the creative sector
platforms for new and emerging Brisbane-based artists to showcase new work
an opening and networking forum event for Council VIPs and creative industry representatives in consultation with Council on the weekend of 10-11 February 2018.
It is strongly recommended the producer, creative collective or cultural organisation should partner and collaborate with local business or a larger cultural organisation to assist the delivery of the program, such as a collaboration with the Australian Performing Arts Market (APAM).  Council will provide data from recently completed Creative Sector Stakeholder Research to inform some of the focus of discussion and forums.
The Creative Sector Development Producer, creative collective or cultural organisation will share resources and ideas with the Contemporary and Community Program, with opportunities for artists to showcase their practice in more than one program where appropriate.
The Festival will take place from 10 February-4 March 2018 and responds directly to Council's Creative Brisbane Creative Economy 2013-2022 strategy through the following objectives.
Celebrating Brisbane's diverse and authentic voices through presenting traditional and contemporary Asian arts and cultural events.
Creating collaborative partnerships with artists, businesses, Brisbane residents and visitors.
Connecting with artists and cultural organisations that are at the forefront of innovation and risk taking to produce new works for Brisbane's audiences.
THE SCOPE OF WORK
Programming: program concept, development and delivery, with evidence of stakeholder engagement in planning. The program must include a minimum of three major forums (minimum audience 200) including the opening event, and four smaller events, all showcasing new work in the activity.
Location: may include Council venues such as Brisbane Powerhouse, Brisbane City Hall, The Capital, Museum of Brisbane and cultural spaces such as SunPAC.
Production: development and delivery of production schedules, risk assessment and an event manual (if required).
Budget: a preliminary budget, and a demonstrated capacity to manage the purchase and payment of all materials and installation and dismantle requirements.
Performance times: A series of events held between 10 February – 4 March 2018, opening event 10 or 11 February 2018.
Theming: a theme will be used to link all three programs and can be used for concept design, promotion and activation at venue.
Signage: coordination, distribution and collection of Council signage at venues.
Volunteer management: including rosters, equipment, briefings and reporting (if required).
Workplace, Health and Safety: demonstrated capacity that the project can ensure all aspects comply with relevant workplace health and safety legislation.
Evaluation: reporting on the event including the budget and documentation (including images),
to be included in a final outcome report in a Council supplied template.
Marketing: development and delivery of a marketing campaign for the event.
Booking system: consideration of a booking system, for a free ticketed event.
Audience: target should include Brisbane creatives with a minimum of 200 per event.
Whilst not stationed within Council, this program will be supported in the delivery of the Project by a Council Contact Officer.
BUDGET
A fee of $50,000 (excluding GST) will be paid to the successful applicant for the production and delivery of the program. This is all inclusive and fixed. Venue hire may be paid by Council (this does not include technical production, technical staff or ushers).
CONTRACT PERIOD
The contract period is from mid- August 2017 to 2 April 2018.
MARKETING AND COMMUNICATIONS
The successful applicant/s will be required to work with Council's Contact Officer and Creative Communications Officer for direction regarding marketing materials.
HOW TO APPLY
Responses to the following four (4) questions together with relevant attachments should be emailed to: creative.communities@brisbane.qld.gov.au with BrisAsia Festival, Creative Sector Development Program in the subject line by 5pm, Monday 24 July 2017. All applicants will be advised of the outcomes by Friday 18 August 2017. Submissions will be assessed against the following criteria.