DEADLINE

: 1st October, 2017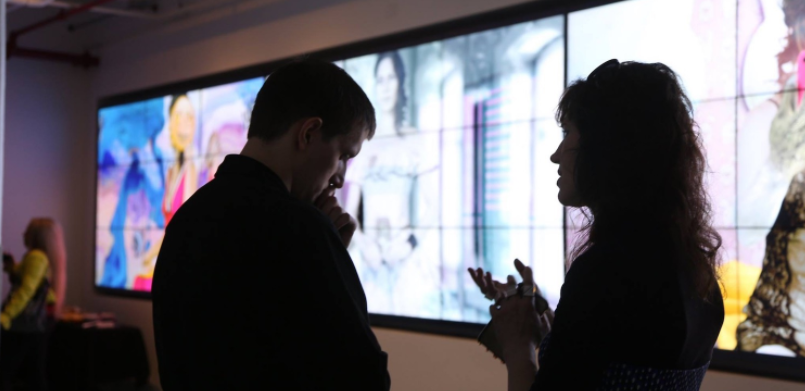 CURATORIAL TEAM IS NOW ACCEPTING SUBMISSIONS FOR  – THE CYFEST'S DIGITAL VIDEO ART PROGRAM.
One of the largest international media art festivals, CYFEST was founded in St. Petersburg in 2007 by independent artists and curators. The festival promotes the emergence of new forms of art and high technology interactions, developing professional connections between artists, curators, engineers and programmers around the world and exposing wide audiences to the works in the field of robotics, video art, sound art and net art. Over the years, the festival has invited artists from Russia, USA, Germany, Japan, Canada, Argentina, Brazil, Finland, Italy, the Philippines and other countries.
During its existence, the festival has earned a reputation as the original and the most significant New Media event in Russia. Making a pivotal leap in 2013 — CYFEST's 7th edition expanded for the first time outside Russia to Berlin, attracting over 10,000 visitors over 5 days. In 2014/2015, CYLAND & CYFEST reached further by branching to 5 innovative cities (St Petersburg, Moscow, Tokyo, Berlin, New York) on the Art & Tech frontier, strengthening cultural exchange among innovators.
The annual CYFEST DIGITAL VIDEO ART PROGRAM is the curated selection of 10 – 15 short works (under 6 minutes in length) which are chosen from international submissions via an open call. Submissions to the CYFEST DIGITAL VIDEO ART PROGRAM are being accepted until October 1, 2017. Submission is free.
THE UPCOMING CYFEST TAKES PLACE FALL 2017 in NEW YORK – winter 2018 in ST PETERSBURG
For the 11th edition Selections for The CYFEST Video Program will be screened at the Made In New York Media Center (Brooklyn, New York) as part of CYFEST.
THE 11TH ANNUAL CYFEST THEME IS "Weather forecast: Digital Cloudiness"
HOW TO SUBMIT YOUR WORK:
Complete an application form provided for each submission and select two still images of your work to send. (Images must be jpeg, 200-300 dpi, no less than 1500 pixels in any direction ). Label the application file and supplement image files in the following format:
Last Name_Title_ImgNumber.jpg
Send the web link for your video work  and the completed application form along with the required 2 High Resolution Still Images to: videoarchive@cyland.org
Provide your video work as either QuickTime file (.mov) or mp4 video file with H.264 coding (also MPEG-2 for SD video files)Bitrate not less what 5 Mb/s, with a file size not large than 5GB.
CYFEST (CYFEST) is CYLAND MediaArtLab Production
By submitting your work to CYLAND MediaArtLab you are authorizing screenings of your work and distribution of still images for promotion and production of CYFEST11 Digital Media program in print and online by CYLAND in reference to CYFEST.
The results will be published at CYLAND web site. www.cyland.org/lab