DEADLINE

: 9th May 2015, 3:00 - 5:00pm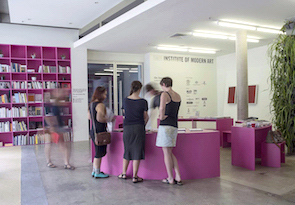 Join the second iteration of the IMA Reading Group on Saturday 9 May at 3pm. The reading group is a monthly assembly in the Motto IMA bookstore designed to further activate local discussion surrounding contemporary art. The initiative is aimed at university students and recent graduates, and desires to provoke conversation in an open, participatory environment.
This version will be guest led by Dr Victoria Lawson. Awarded a PHD in Visual Arts from Sydney College of the Arts, a practicing artist and an IMA volunteer, Victoria will respond to texts relating to artists from the exhibition Imaginary Accord. The first reading will be an interview between Theorist Sylvère Lotringer and Nina Power titled 'Intelligence Agency' published by Frieze. The second reading is titled Opacity, by Ulrich Loock published by Freize d/e.