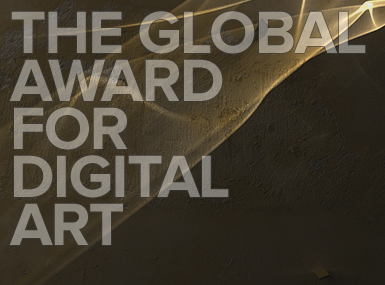 The Lumen Prize Exhibition celebrates the very best fine art created digitally from emerging and established artists globally. Our goal is to focus the world's attention on this exciting genre of fine art through an annual competition and global tour of the works selected by our eminent panel of judges.
We are seeking the most compelling work of artists working with electronic devices such as smartphones, tablets, digital cameras, 3D printers, and computers with proprietary or open-source software or coding of their own design.
We believe in the power of art and are honoured to be working with national and international charities, using our exhibitions as a tool for social change through fund-raising events and artist engagement globally. A percentage of each entry fee is donated to our founding partner charity, Peace Direct, which funds local peacebuilders in conflict zones globally.
WHO WE ARE
The Lumen Prize was launched in 2011 by Carla Rapoport, a director of  Treberfydd Foundation Ltd, a not-for-profit company registered in Wales, UK.
To find out more about The Lumen Team click here.
HOW THE COMPETITION WORKS
The Lumen Prize is open to artists anywhere in the world. All entries are reviewed by Lumen's International Selection Committee which is made up of academics, gallerists, artists and art historians from around the world. The top 100 works chosen by the ISC become the Lumen Online Gallery which is opened for a public vote for the People's Choice Award in September.
The top 100 works are then reviewed by the Lumen Jury Panelwho choose the top 25 works that form the 2014 Lumen Prize Exhibition and the 2014 Lumen Prize winners. The Founder's prize is selected by Lumen's Founder, Carla Rapoport.
We work with a range of charities on our global tour and our partner charity, Peace Direct, receives a percentage of each entry fee.
CONTACT US
We are eager to hear from you if you have a question, are interested in hosting the Lumen Prize Exhibition or learning more about the 2012 and 2013 Lumen Prize artists please email us at info@lumenprize.com.
To learn more about our activities – and digital art globally – please join our global network on Facebook or Twitter.
The Lumen Prize is proudly based in the city of Cardiff, Wales.
Address: The Lumen Prize Exhibition, Cardiff Business Technology Centre, Senghennydd Rd, Cardiff CF24 4AY
Telephone: 09:00 – 17:00, Monday to Friday: (+44) 029 2064 7000