DEADLINE

: 5th March, 2018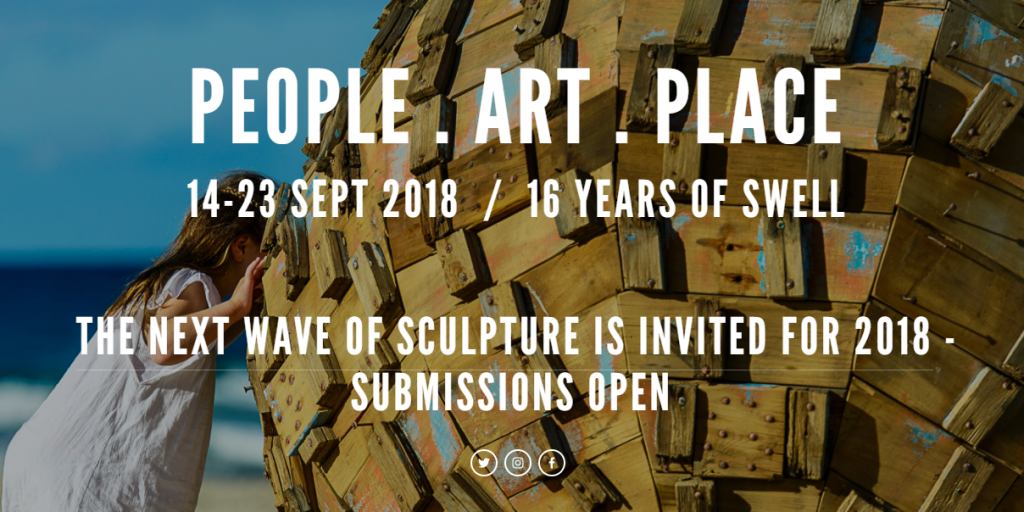 In the wake of the highly popular milestone year in 2017,
SWELL Sculpture Festival is inviting submissions from artists, art collectives and collaborators to exhibit at the 16th annual exhibition.
SWELL is Queensland's premier outdoor sculpture exhibition, and presents 50 Australian and international artists to captivate the hearts and minds of an audience of 275,000. Set between two iconic headlands at the Gold Coast's Currumbin Beach, the vast coastal landscape encourages submissions of thought-provoking and sculpturally impressive works.
SWELL is a ten day manifestation of conceptions and visual commentary, and presents small, medium and large-scale sculpture, installations, and digital works as a FREE outdoor gallery at Currumbin Beach, September 14-23.
ARTISTS from across Australia and the world working in all mediums are invited to submit.
SWELL welcomes the opportunity to work with artists who are keen to break new ground in sculpture presentation and installation art. Works can be site-specific, display ephemeral qualities and should invite dialogue and instigate inspired conversations through craftsmanship, kinetics, message or artistic quirkiness.
"SWELL is the conduit connecting people, art and place. Every year audiences can identify with the diversity of works presented whilst the beach is transformed into an outdoor gallery. Artists challenge themselves by presenting meaningful sculptures and artistic commentary, whilst vying for significant awards that assist in developing their artistic practice." Founding Director Natasha Edwards says.
Artists will vie for awards totalling over $25,000 with the coveted major award of $15,000 cash. In addition to the awards, SWELL offers artists unparalleled opportunities such as media profiles, the chance to establish new industry contacts, professional development, and the potential to sell and commission works.
The 2017 recipient of the $15,000 Neumann Family SWELL Sculpture Award was Joy Heylen, whose work The Crab, a 4m corten steel innovation using cutting edge technology and blacksmith techniques, says the top honour has anchored her art practice. "SWELL's beautiful location and inviting community was a fantastic experience with the team giving all the necessary tools to aid in what was a challenging but rewarding installation." Joy said. Her SWELL experience has "invigorated me to move to the next stage of professional development. Since SWELL, I have started a formal degree, had media coverage and have a future in art much more defined."
Artist submissions can comprise of completed works, works in progress or concepts.
Artists can submit online at www.swellsculpture.com.au