DEADLINE

: 26th September, 2016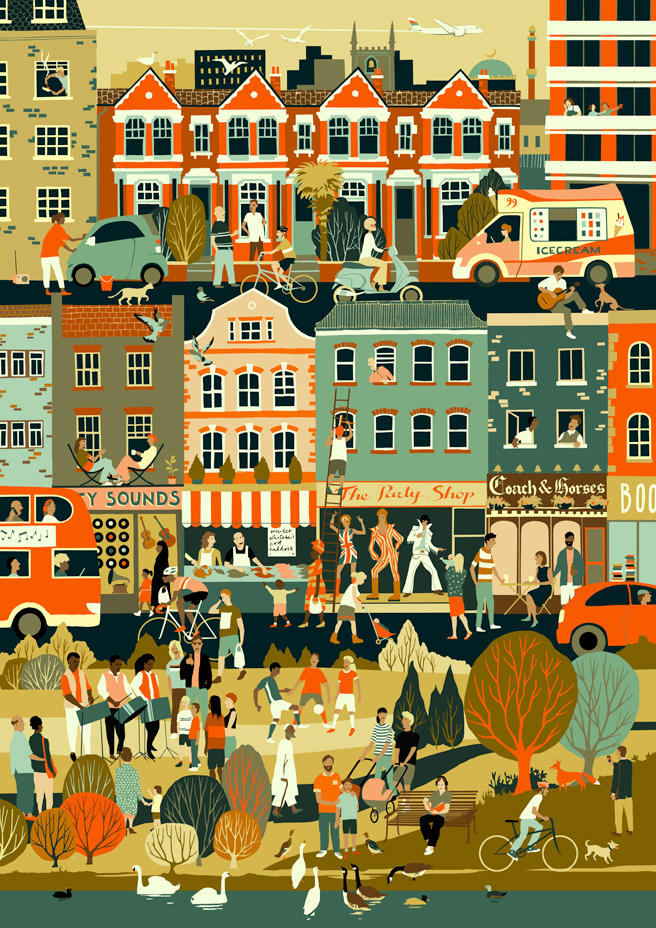 The Association of Illustrators (AOI) in partnership with London Transport Museum (LTM), is delighted to announce that submissions are now open for The Prize for Illustration 2017.
This year the theme is Sounds of the City – an illustrated interpretation of urban sound.
We are surrounded 24/7 by sound in our cities. It shapes our experiences and our moods. Whether it's the sound of people going about their daily lives – living, working, visiting or enjoying cultural, sporting or musical activities – or the sounds of nature within the city, the exhibition will show the artist's relationship with sound, heard within the environment of a city context.
What to enter?
The aim of The Prize for Illustration 2017 competition is to attract artwork for display in an exhibition at London Transport Museum that is colourful, inspiring and celebrates the sounds heard in the hubbub and quiet spaces of the UK's vibrant, diverse, multi-layered cities.
Entrants are invited to visually capture sound heard in our UK cities in a single illustration. We want to see quiet and relaxing through to loud and frenetic city sounds.  Inspiration might be from natural or man-made sounds. Where does your ear meet your eye? You may be inspired by the lyrics from a song about a city. You might illustrate sound in a recognisable UK city, or your visualisation might be a soundscape heard in any UK city. You might just illustrate the people, activities or things that produce the sounds – imaginary or real, past or present.  Your imagination is the limit.
The roar of traffic. Shrieks of children playing. Honking of car horns. Rattle and hum of music on a radio. Barking of an urban fox. Banging of a door. Rustle of trees in a green city space. Drilling of road works. Ticking of a clock. Song inspired by a city. Calls of a market trader. Thump of drums at a concert. Shouts of people on the streets. Blaring of a police siren. Murmurs of people talking in a meeting. Screech of brakes on a bus. Ringing of bells.
Impress the judges with your illustrated interpretation of the common, the curious, the persistent and the distinctive chorus of sounds we hear around us day and night and be in with a chance of having your work displayed at the famous London Transport Museum and winning the top prize.
Prizes are awarded in three levels:
• First prize: £2000 and display of the winning image on a London Transport Museum poster to be displayed on the London Underground.
• Second prize: £1000
• Third prize: £750
There is also the possibility that shortlisted images will be featured on merchandise sold in London Transport Museum's shop.
The Competition
The competition is open to illustrators and students of illustration throughout the world.
The top 100 entries selected by a panel of independent judges will be displayed in an exhibition at London Transport Museum that will open in May 2017 and run until September 2017. The winners will be announced at a private award ceremony that will take place in May 2017.
The deadline for entry to The Prize for Illustration 2017 competition is 26 September 2016
Please read the Terms for Entry before submitting work.  Enter here
For more information please visit the – Website