DEADLINE

: 24th May, 2015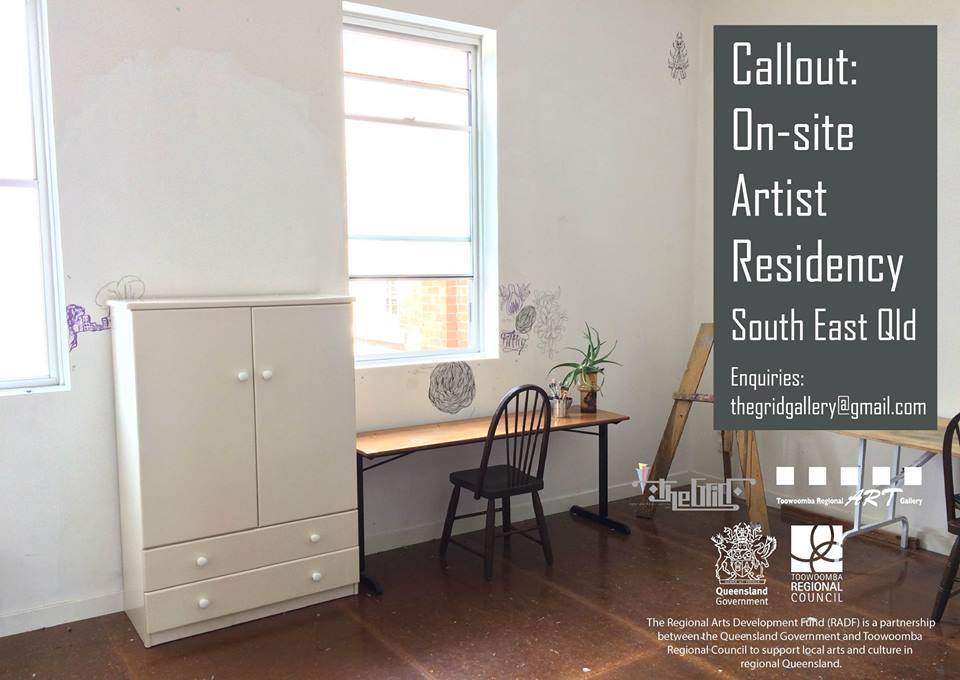 TheGRID: Hybrid Arts Collective Inc., and Toowoomba Regional Art Gallery invite applications from artists for a fifteen week residency at theGRID.  Artists must have more than five years' professional practice and reside outside the Toowoomba region.
'Off theGRID Too!' builds on the 2013 pilot project and is a residency program offering a visiting artist a full time studio at theGRID. The residency will culminate in a four-week exhibition at the Toowoomba Regional Art Gallery.
A condition of this residency is that the successful applicant will share the studio in a mentoring capacity with a local, emerging artist. The successful applicant will participate in selecting this artist.
During the period of the residency the successful applicant will also be required to:
– Bring a recently completed work for display at the beginning of the residency
– Deliver 2 x artist talks at TRAG (1 x introductory, 1 x concluding)
– Welcome the public to their studio three times
– Be in attendance at three professional development forums, at theGRID
The residency covers:
– 1 x return travel to Toowoomba
– Residential Accommodation in walking distance to the studio
– Daily allowance for the duration of the residency (paid in three
instalments)
TheGRID: Hybrid Arts Collective Inc., will also document progress and outcomes of the residency for public presentation, archival and reporting purposes.
Apply by submitting a word document that includes a statement
expressing your suitability for 'Off theGRID Too!' (750 words max.) This statement should address examples of previous audience engagement/how your work has been presented in public forums – both informal and formal.
In addition please supply a 1 page CV and up to 10 support images with descriptions.
Artists will be shortlisted and shortlisted applicants may be given a skype interview.
Important dates:
Applications are due 5pm 24 May 2015
Residency begins 3 August 2015
Final exhibition opens 5 November 2015
Residency concludes 18 November 2015
Applications should be emailed to thegridgallery@gmail.com cc art@toowoombarc.qld.gov.au andthegrid@hotmail.com.au
Enquiries or more info: thegridgallery@gmail.com