WHEN

: 27th August – 26th November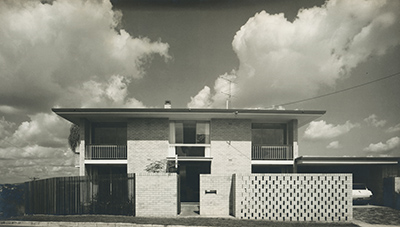 Curated by Dr Andrew Wilson (Head, The Leeds School of Architecture), the exhibition 50: Drewe & Pestorius' Sweeney House celebrates the 50th anniversary of the modern house that Brisbane architect Geoff Pestorius (1930–1968) designed for his brother-in-law Robert Sweeney. In a city that continues to fetishize the local 'tin and timber' vernacular building tradition and it's dubious legacy, it is unusual to see Modernist masonry houses make it to fifty unscathed. Despite being more at one with the sub-tropical climate and evidencing a spatial sophistication that eclipses so much of what passes for domestic architecture today, these remarkable houses are still not singled out for heritage protection, but allowed to fall victim to rampant redevelopment.
Located on a modest corner block high on Hamilton Hill, the Sweeney House is perhaps the best surviving example of how post-war Brisbane architects adapted the lessons of the Bauhaus to local climatic and geographic conditions. Marked by an abundance of floor-to-ceiling glazing, house and garden blur into one another while the open-plan is a case study in cross-ventilation, natural lighting and spatial fluidity.
The important outdoor spaces of the Sweeney House, which were realised in cooperation with pioneering Brisbane landscape architect Arne Fink (1930–1993), reflect a balance of Indigenous, Oceanic and Asian species, with many of the original plantings still extant. Much of the original furniture also remains in situ and has been augmented with period pieces acquired locally from Danish Quality Furniture and the Craftsman's Market, as well as rare constructivist chairs by Campbell Scott and a small pine table by Robert Dunlop.
The exhibition, which will be presented in the stairhall gallery (originally designed to accommodate Robert Sweeney's art collection), will include original drawings, blueprints and vintage photographs taken by architect Gabriel Poole soon after the house was completed in 1966. In addition, a book by Leni Hoffmann with essays by Dr Wilson, Jonathan Kopinski and David Pestorius is being produced to accompany the exhibition.
Please note that attendance at this exhibition is by appointment only and that persons wishing to see it should contact David Pestorius on (07) 3262 4870 to arrange a suitable time.