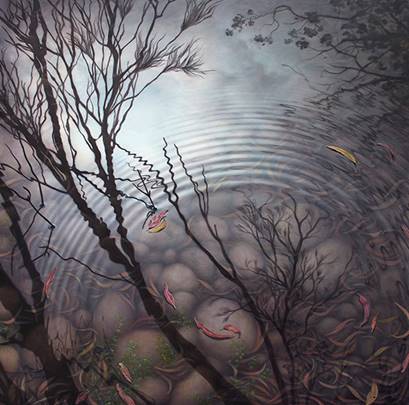 Ai Shah's delicate technique is inspiring and deeply thought-provoking; offering the viewer a rare insight into the sense of space that water can enfold. Ai's attention to detail and the subtle narrative of the passing of time have enchanted those who've followed Ai's artistic career. Her paintings are contemplative, insightful and rich in metaphor and allegory.
"All paintings play along a continuum between reality and abstraction while maintaining my study of water.
FreeFlow is an experiment in trying to push further towards abstraction by removing the everyday markers of reality — it is in this sense another step along the continuum from what I accomplished in my last show, WaterTale.  In all of the paintings for this show, the challenge has been to achieve balance through hiding and revealing the familiar, and by focusing or obscuring the unique patterns, shapes, lines, and colour which nature creates on the water."
– Ai Shah
Image: Crescendo. Oil canvas, 120 x 120cm.