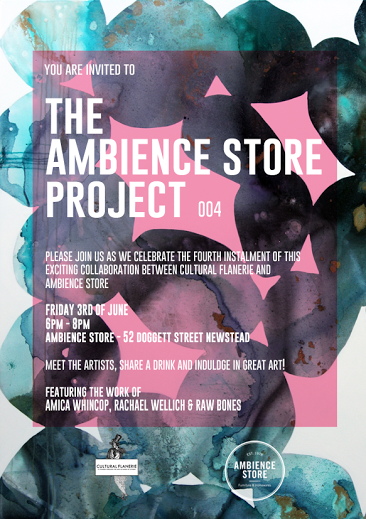 The Ambience Store Project, now in its fourth instalment, celebrates the natural world with its latest exhibition.
Headlining show #4 is Sunshine Coast artist Amica Whincop, a star well and truly on the rise after being featured on Channel 9's The Block. Inspired by a childhood in England and an adult life spent traveling through some of the world's most exotic locations, Whincop's paintings are ethereal canvases of opalescent stones, organic forms and dappled light. With a forthcoming exhibition schedule that includes some of Australia's most respected commercial galleries, her inclusion in The Ambience Store Project #4 will be the last chance to see her work before she launches onto art's mainstage.
Featuring alongside Whincop is Queensland College of Art (QCA) alumni Rachael Wellich, whose explorations into sustainability and new materialism lead her to work primarily with natural indigo and organic fibres. In the tradition of the most ancient textile arts, Wellich hand dyes, stitches, carves and waxes her works, incorporating the age old techniques of Japanese, Eastern European and Middle Eastern artisans to create her extraordinary installations.
Joining Whincop and Wellich is Brisbane-based photographer Raw Bones, whose career as one of the foremost documenters of the city's burlesque and live music scene has been sidelined by an increasingly urgent desire to record the unique beauty of the Gold Coast Hinterland. Focusing on the rainforest of South East Queensland, Bones captures the magic that exists within this exquisite and endangered landscape before it is lost to us forever through climate change and overdevelopment.
"The Ambience Store Project has never been just about commercial sales", says curator Carrie McCarthy. "That's an important aspect of it, of course, but at its heart is a belief that artists and their work deserve to be championed regardless of their commerciality, especially those who take great risks in making art with strong social messages."
With the issues of environmental and arts sector conservation both being debated in the media currently, The Ambience Store Project #4 is well timed to highlight how the natural world continues to inspire contemporary artists, and the important role art can play in helping to raise awareness for our fragile natural resources.
The Ambience Store Project #4 52 Doggett Street, Newstead Q 4006 From 2 to 27 June 2016 Further enquiries, contact curator Carrie McCarthy via culturalflanerie@gmail.com or 0411723383.