WHEN

: 21st March - 15th April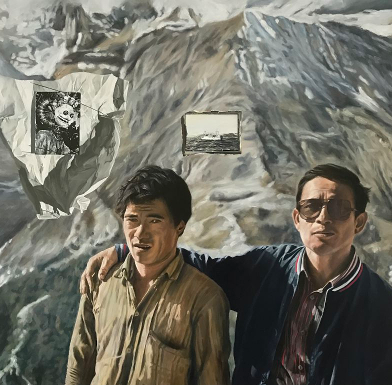 Melbourne artists Lyndell Brown and Charles Green invoke illusory worlds that disrupt the boundaries between past and present, fact and fiction. Intertwining the mediums of painting, photography and digital reproduction, the artists layer and recreate images from different cultural periods and contexts. However, as the viewer deciphers the images one comes to the realisation that the more you recognise the less you know. The images in question appear to have no concrete connection to one another. The artists have discussed this use of seemingly arbitrary images as being archival and not about appropriation.
In March of 2007, Green and Brown traveled through the Middle East and Afghanistan as official war artists commissioned by the Australian War Memorial in Canberra. This commission resulted in dynamic images where the artists have evaded traditional representation of war. The works are a series of contemplative images that juxtapose landscape, historical culture and emerging technology.
The artists' work has been extensively exhibited throughout Australia and abroad. Solo exhibitions include Lyndell Brown and Charles Green, Gibsone Jessop Gallery, Toronto, Canada (2005); Elemental Landscape, GRANTPIRRIE, Sydney (2006); The Painters' Family, ARC One Gallery, Melbourne (2007); Framing Conflict: Iraq and Afghanistan, Ian Potter Art Museum, Melbourne University, Melbourne and touring (2008) and Reading Room: Lyndell Brown/Charles Green, 2001-2007, Queensland University of Technology Gallery, QUT University, Brisbane.
Image: Wine dark sea (2017). Oil on linen, 100 x 100cm.