WHEN

: 3rd February, 7:00 - 11:00pm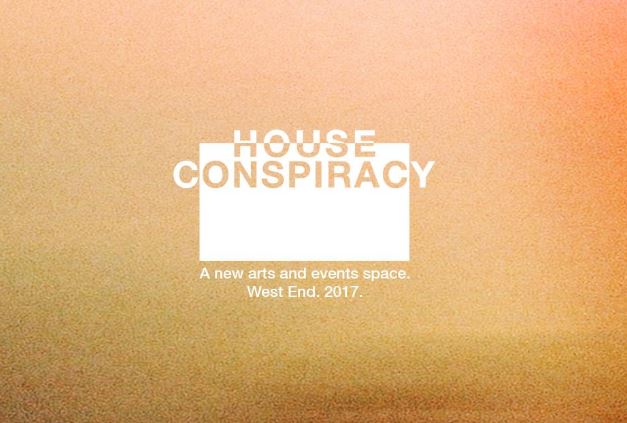 House Conspiracy is Brisbane's newest artists' residency space opening February 3rd, seeking to empower artists through provision of free residencies, workshop, and showcase spaces.
More than one hundred artists will receive support from House Conspiracy in 2017.
At least 68 of these artists will participate in the ground-breaking Emerging Artist Residencies program. This program supports artists with free space and a small stipend as they use the House as both a workspace and a canvas to create a living, changing artwork.
House Conspiracy's Resident Artists will be a diverse mix of sculptors, photographers, writers, poets, and more.
House Conspiracy, Australia's own 'Up' house, is sandwiched between two apartment complexes at 42 Mollison Street, West End, and went on the market in 2015 for the first time in 60 years. This was after long-term owners Janet and Norm Richards held out against buyers and developers who wanted to construct on the land.
Now, after purchase from an anonymous buyer in 2015, the House—positioned across from the new West Village development—is being returned to the West End community.
House Conspiracy's ambition, says Founding Creative Director Jonathan O'Brien, is to "keep it that way".
"As competition between artists for support has increased, it has become progressively harder to sustain an arts practice when you haven't yet 'made it'," he says.
"We're hoping that by providing resources for artists, as well as free and low-cost space where they can work, House Conspiracy will create new opportunities for developing a career in the creative industries."
The core House Conspiracy team—Jonathan O'Brien, Lewis Holmes, Cinnamon Smith, and Elizabeth Cowie—have been working on the project since mid-2016. House Conspiracy's official launch will take place on February 4th.
The organisation receives support from the Queensland Government through Arts Queensland, the Doug Hall Foundation, and the Brisbane City Council.