WHEN

: 27th November - 19th December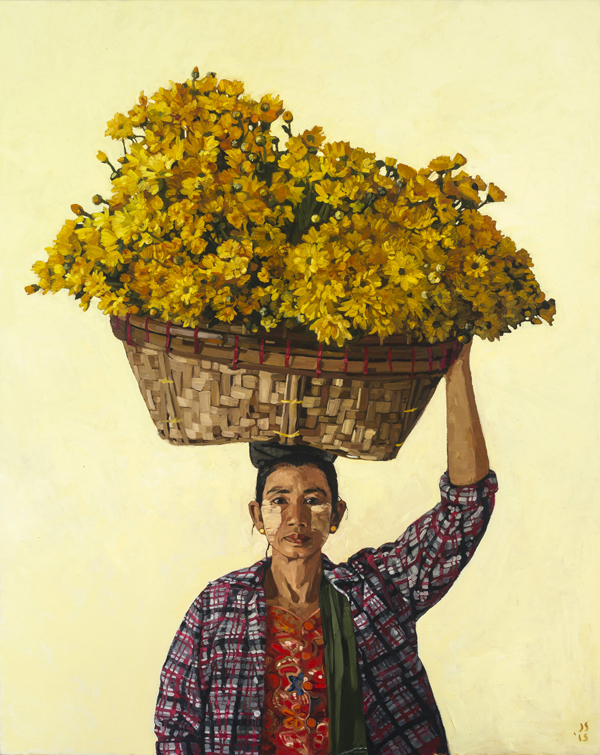 "In 2015, I have been living and painting in downtown Yangon, formally Rangoon. Yangon is a city in transition. The population through poverty and neglect still lives as it has for generations, in the crowded narrow downtown streets lined with crumbling colonial structures. But inevitably there are signs of western consumerist culture creeping in everywhere with teenagers in sparkly t-shirts with English slogans, monks with Samsung Galaxies and the recent grand opening of Yangon's first KFC.
In this collection of recent works, I explore the current people and scapes of Yangon. In particular the women who each morning walk up from the wharves into my street, 37th street, carrying produce on their heads calling out in their distinctive melodic calls and stopping to sell along the way. Women balancing the most beautifully organised 'still lives' on their heads with such elegance and ease. I invited some of these women up to my 7th floor apartment to sit for their portraits. A very foreign and strange concept, as they work from dawn to dusk seven days a week. Some turned up proudly in their traditional Burmese clothing while some came in their working clothes as I requested.
Having explored the subject of still life in previous exhibitions, I delighted in this combined subject of portrait and still life, all sitting by the window with light flowing in from the North. Other paintings are of buildings in and around 37th street, the sweet smelling stringed jasmine, the fresh fish from the local market and the vibrant Yangon green of plastic woven shopping baskets."
Judith Sinnamon, November 2015.
OPENING DRINKS: SATURDAY 28 NOVEMBER 2-4pm
Image: 'Min Min Mon (Woman with flowers on her head)' (2015) oil on Belgian linen 152 x 122 cm