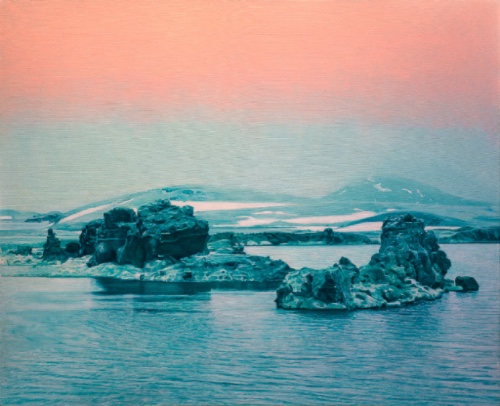 Jan Manton Art is pleased to announce upcoming exhibition New Horizons by Brisbane based artist Kate McKay.
After a recent trip to Iceland, to complete an artist residency, Kate McKay returned to her studio to render the form she loves the most … the romantic landscape.  Whether real or imagined, Kate McKay revels in depicting the 'otherness', bringing familiar and alien spaces together in saturated colours and amazing detail.
The viewer is cast into a visual delight and left with a longing to know these wild and remote places.   Kate McKay's contemporary approach to the landscape is best explained by Caity Renyolds in her exhibition essay:
"Through scale and a subversion of conventional colour theory, the paintings beguile our expectations, both of how landscape paintings are supposed to behave and how we are suppose to behave in the presence of a landscape.  McKay's works do not attempt to contain the wild, but let it spill outwards.  Though beautiful, their aestheticism pales in the shadow of expanse.  Merely reciting what was spoken to her by the landscape, New Horizons is a reminder that when we return home it will not be to a warm bed, but the vague and unsteady waters of the wild"
Kate McKay is a First Class Honours graduate of Queensland College of Art and was awarded 'Winner' Macquarie Group Emerging Artist Prize, Sydney in 2015. This is Kate McKay's third show with Jan Manton Art.
Image: Floating Rocks (2017). Oil on linen, 137 x 168cm.