WHEN

: 16th February, 5:30pm - 12:00pm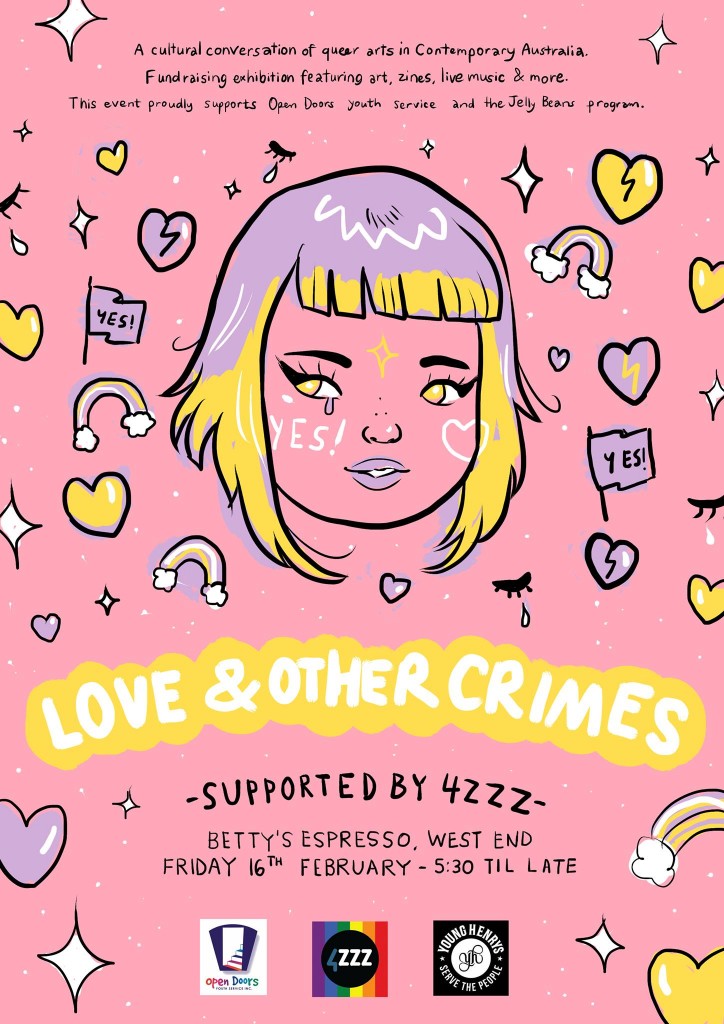 Love and Other Crimes proudly brings you the first installment of LaOC community arts events.
This fundraising exhibition is a cultural conversation of queer arts in contemporary Australia and as a response to our current political environment. Featuring the artworks, zines plus more of over 30 Australian artist plus a very special live performance by DEATH CLUB 7.
This event proudly supports Open Doors Youth Services Inc and the Jelly Beans program with 100 % of proceeds raised on the night being donated. Gold coin donation on the door.
Featuring artwork by:
Adrianna Mammino
Amytis
Angelica RW
Ashley Ronning
Cat Delaney
Chloe McGregor
Chris McPherson
Danny Stevenson
Eryn Begley
Elly O'Neill
Gabrielle Tucker
Gemma Flack
Grace Helena Pavey
Holly Riding
Irina Straus
Jac Dyson
Jahlia Aird
James Bourbon
Jenna Lee
Josh Murphy
Kali Dawson
Kate Elizabeth
Leah Redzev
Lena Molnar
Luffy Rae
Mel Stringer
Merv Heers
Michelle Brown
Niqui Toldi
Philip Dearest
Rachael Burke
Rachael Sarra
Rachael Sedgeman
Revee Bendixen
Rose Wadsworth
Rosie Turner
Shani Finch
Steph Flynn
Stinkhorns
The Great Vegetable Kingdom
Thomas Blackwell
Tia Woolf
Tom Magee
Tonia Composto
Supported by 4ZZZ and Young Henrys
We acknowledge the traditional owners, the Jagera and the Turrbal people, and the elders, past, present and emerging where this event takes place. We acknowledge sovereignty was
never ceded.
Betty's Espresso & Bar: 11 Browning St, South Brisbane, Brisbane,