WHEN

: 11th July - 3rd August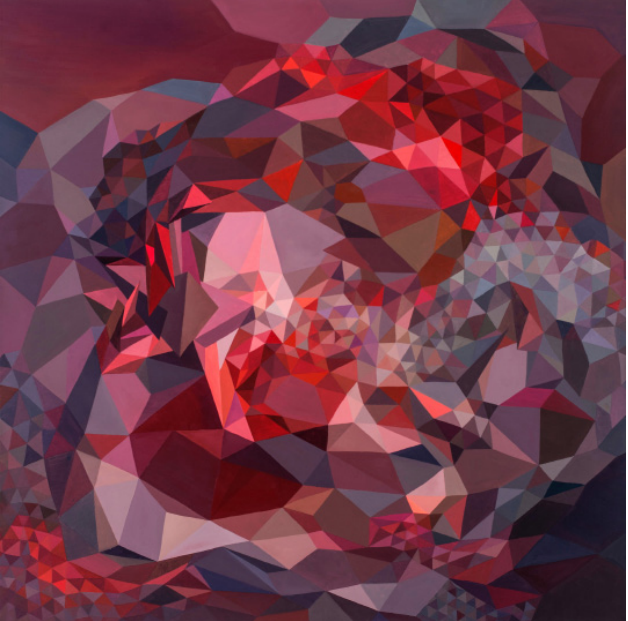 From my quiet studio in Redland Bay I construct complex paintings and modular sculptures. I have long been fascinated by the underlying order of things, the sense of pattern that lies beneath the chaos of life and a belief that everything is somehow connected within that pattern. My work is both an investigation of the world and a retreat from it.
Geometry is at the heart of my investigation just as it is at the heart of our understanding of the universe. From the patterns of spider webs to the movement of the planets, we measure, analyse and predict through geometric reckonings.
Complexity and repetition are key elements in this body of work and often involve a gradual transition between order and disorder. The modulating of simple geometric shapes allows endless investigations of the subtle shift of pattern, texture, colour and form.
As a carpenter's daughter I have always known the value of building something by hand. My working process is industrious and considered. I manipulate forms and colours to create movement so the grid appears to shift forwards and backwards in space. The dualities of precision and ambiguity, organic and architectural are ever present. Ultimately, my work is an open-ended narrative. I encourage the viewer to experience the work as I do by becoming immersed in the sensual nuances of colour, pattern and form.
Lyndal Hargrave June 2017
Prismatics expands on Lyndal Hargrave's previous ruminations on interconnectedness by immersing wholly into the creative process rather than focusing on strict geometric considerations. Technically confident, Hargrave has trusted past experience to guide this show, ultimately letting her subconscious decide which direction the work should take. Gem-like prisms tumble upon each other in perpetual motion, floating forward and back, rising and falling with each undulation, giving the works a softness and tactility more akin to quilting than the hard edges of geometric abstraction.
Lyndal Hargrave has a Diploma of Education in Fine Art from the Queensland University of Technology. She was the winner of the 2011 Mosman Insitu Sculpture Award, a finalist in the International Lace Award at the Powerhouse Museum in Sydney, twice a finalist in the Blake Prize Directors Cut Exhibition and a finalist in the Stan and Maureen Duke Prize. Collections include Artbank, The Gold Coast City Gallery, Redland City Council, Ipswich Grammar School and Greenslopes Hospital.
Image: LYNDAL HARGRAVE 'Rubellite Love' 2017, oil on canvas 122 x 122 cm