WHEN

: 20th – 23rd November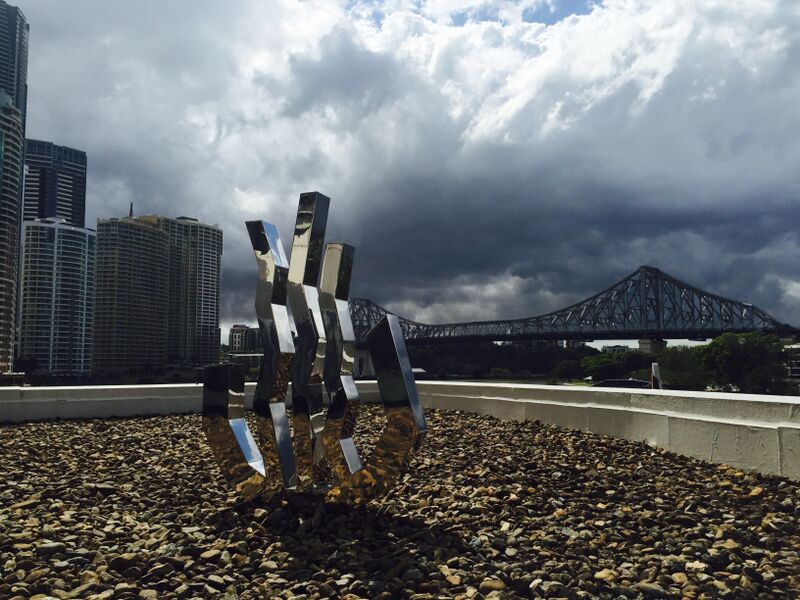 Senior Warlpiri artist Michael Nelson Jagamara will make a lightning visit to Brisbane to promote and celebrate the successful 2015 launching of Lightning Strikes sculpture series. Michael Nelson Jagamara, (MNJ), was born in 1946 at Vaughan Springs, in Central Australia. In 2014, MNJ completed an angular 'lightning' sculpture design derived from his age old Rain + Water Dreaming story. It's distinctive hard edged base represents a section of a 'travelling storm' whilst the three jagged upright forms represent 'flashes of lightning'.
Earlier this year, the first editions were fabricated in bronze, stainless steel and two-pac painted polyurethane. Variations of the sculptures in each of these materials are currently being exhibited in four different sites in Brisbane: Lightning Strikes at Lyrebird Restaurant QPAC (polyurethane coloured cluster suspended installation), Lightning Strikes at Black Bird Bar and Grill on the River (Stainless Steel sculpture), Lightning Strikes at The Gabba (Bronze Sculpture at Front entrance QLD Cricketers Club), and Lightning Strikes in the Garden (Bronze and Stainless steel sculptures at a private residence). During this four-day period, MNJ will travel to each of these sites for photographic opportunities. Times and details available on request.
MNJ remains a legendary Indigenous artist whose distinctive artwork crosses many cultural boundaries. He boasts representation in both the National Gallery of Australia and the Queensland Art Gallery; has been commissioned for major public artworks in the Forecourt of Parliament House, Canberra and the Sydney Opera House; and completed an Art Series hand painted car for BMW.
Artist will visit Brisbane sculpture sites:
Lightning Strikes at Lyrebird Restaurant QPAC (polyurethane coloured cluster suspended installation)
Lightning Strikes at Black Bird Bar and Grill on the River (Stainless Steel sculpture)
Lightning Strikes at The Gabba (Bronze Sculpture at Front entrance Qld Cricketers Club)
Lightning Strikes in the Garden (Bronze and Stainless steel sculptures at a private residence)
Image: Lightning Strikes at Blackbird Bar and Grill, Brisbane