WHEN

: 3rd - 12th November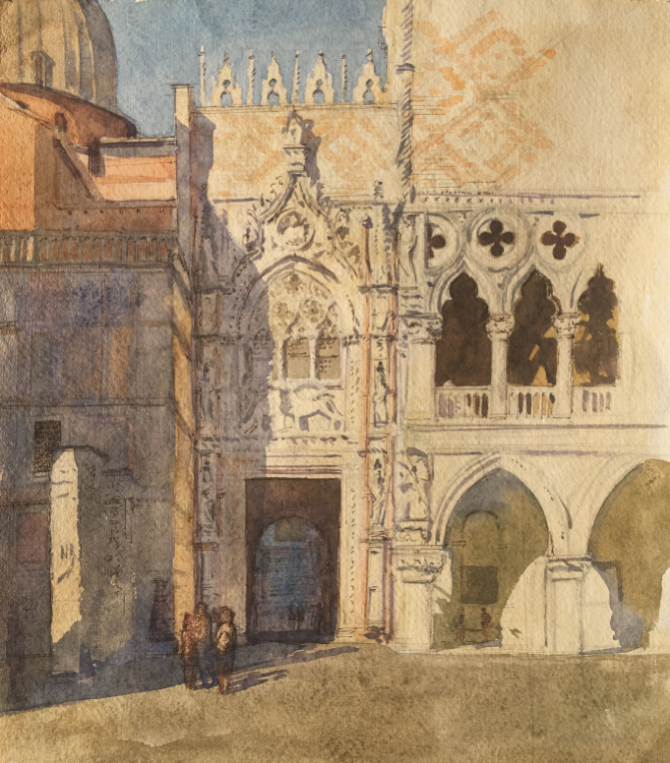 An exhibition of around 25 recent paintings, drawings and watercolours by David Henderson (57) opens at Graydon Gallery on Friday 3 November 2017. The Brisbane artist, best known for his luminous views of Venice, will this year also be showing paintings and watercolours of Rome; both are cities in which the artist has for many years spent extended periods living and working
The exhibition will also include subject matter taken from closer to home. His painting, 'Late Afternoon, Hillside Crescent', which was included in this year's invitation-only Tattersall's Club Landscape Art Prize exhibition, will form the core of a group of locally produced works.
Henderson's involvement in the Brisbane art scene extends to the role of both judge, sitting on the panel of the Ekka's fine art section, and prizewinner, being awarded – for the second time – Best of Show in this year's Rotary Art Spectacular.
David Henderson's connection to Italy dates to his early twenties, when he spent six months travelling with a sketchbook and box of watercolours in his backpack. "I was attracted to the charm of Italy's urban spaces with their architectural detail and weathered surfaces in those days, but I think I also had a vague sense that I could investigate this subject matter on a deeper level and that these cities and landscapes were places like no other for investigating the harmonious integration of the human and the natural; of light, shade and atmosphere."
His time in Italy also sparked an interest in the history of art, a subject on which he has since lectured extensively, leading many tour groups to both Italy and France for the Melbourne-based company Australians Studying Abroad. "I feel that as a hands-on practitioner, I can offer insights into the visual arts which complement a purely academic approach, and conversely, a knowledge of the legacy of the past informs and enriches my own practice."
One of the cities which has become a second home for the artist is Venice. "No other place in the world offers painters quite the same combination of architectural density, luminous atmospherics and water reflections. Venice has an intimate as well as a monumental side, and both are interesting to paint. It doesn't bother me in the least that certain subjects have been represented countless times over the centuries. When light is the principal expressive element in the painting, the same view offers endless variations according to time of day, season and weather conditions. Venice still attracts many artists of a high calibre and their presence is a constant reminder that this most venerable of subjects can still be treated in a fresh and personal way."
The exhibition will also feature a number of works painted in Rome. "Like every Italian city, Rome has its own distinctive palette: warm yellows and greys, faded terracotta and grimy travertine. The stucco on the buildings is painted to harmonise with both the locally sourced materials and the light. Combined with this, the juxtaposition of architectural fragments, ornamental facades and open spaces presents endless compositional possibilities."
Henderson believes that to make a successful painting however, it is not necessary to work from subjects famous for their visual appeal. "While just about anything can be the starting point for a painting, the most rewarding subjects are those which on some level engage my imagination. In Rome for instance, it is impossible not to be moved by a sense of the passing of time, and of the unfolding of history. If on the other hand I paint the light of Brisbane I'm confronting my personal history. I have more of a sense of coming to terms with my own experiences and memories – growing up, family and so on."
Biography
David Henderson spent his early years on a sheep property near Longreach. His secondary education was in Brisbane, followed by studies in architecture at QUT (formerly QIT). He began his career as an artist in 1980, sketching architectural subjects for commission and sale, enabling him to travel to Italy the following year. Soon after, he enrolled as a student at London's Royal Academy Schools, graduating in 1985.
He has held 30 solo exhibitions in Brisbane, Melbourne, London and Rome and has been selected for numerous group exhibitions, including the Doug Moran Portrait Prize, the Royal Academy Summer Exhibition and the New English Art Club. He has received prizes from the Royal Academy Schools and Rotary Art Spectacular and commendations from the Tattersall's Landscape Art Award and Royal Queensland Art Society.
David Henderson has taught for a number of organisations, including the Brisbane Institute of Art, Queensland Art Gallery, and QUT. Since 1995, he has worked as a regular tour leader and lecturer for Australians Studying Abroad in Italy, France and the USA.
Image: Porta della Carta, ink and watercolour, 32 x 25 cm