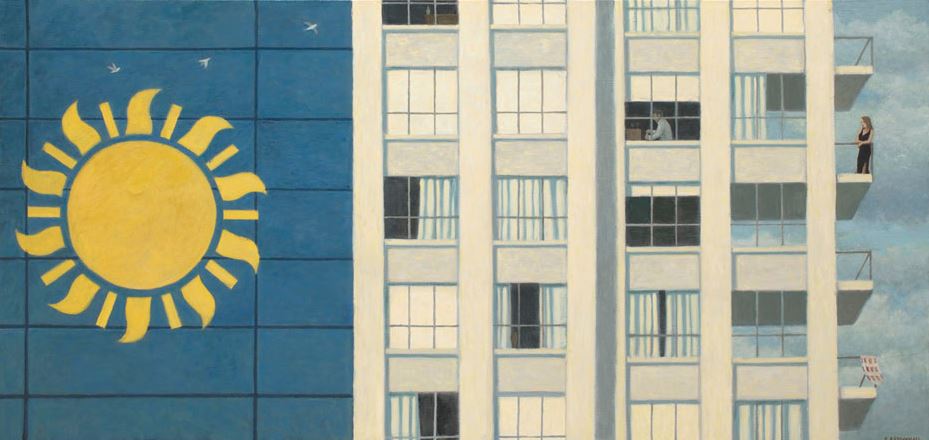 When I left art college, I remember feeling a bit disillusioned with what modern art had become. I just wanted to paint. With Edward Hopper as an influence, I decided to just drive down the street and find some interesting everyday things to paint.
– Robert Brownhall, 2010
Robert Brownhall is a realist painter, inspired by his local environment. Over twenty years of painting he has developed a unique, quirky style and a birds-eye view of scenes, characterized by a strong connection to place, moody nocturnes, broad sweep panoramas and gritty vignettes of urban life. These range from urban scenes and recreational areas in Brisbane and on the nearby Gold and Sunshine Coasts, to the ski slopes of New South Wales, and the New England Highway and Sydney. These paintings have significantly extended the visual poetry associated with these areas of work and play in Australia.
Brownhall's realism is not slick. The humanity and visibility of his brushstroke is as important to him as that of his figures and there is a filmic quality in the work induced by the light and moody glazes. His power in defining, recording, his prescience in the capture of buildings and scenes now lost, frames the way that we have seen and experienced the psyche of the cities and towns in which he has worked.
He cites Edward Hopper and Pieter Bruegel as influences, but equally important to him is process. Brownhall draws — as a way of thinking through images, to record the scenes he observes — often from his car or high rise buildings, beaches and parks — and as an end in their own right. At night he may use a torch or street light, allowing the light to 'paint' the scene. Notes about colour, mood and ambience may be recorded on the pencil sketch. However he notes, "When I paint from a drawing, the scene changes with the translation". Imagination fleshes out the sketch, creating the strong artistic personality evident in the finished work.
As a result, Brownhall's paintings are not 'real' scenes any more than a novel is a transcription of life. There is something amiss, strange, or intriguing here, alongside a sensibility that lulls you into a false sense of reality.
He works from a home studio on an acreage property at Upper Brookfield, on Brisbane's western outskirts, not far from where he grew up. He spends most of his time in the 'studio', up close and personal with family life, his art an integral part of the way that he, wife Sarah and their children live.
"Each show is a diary. A painting is my personal memory of a scene. I like to develop a good sense of proportion and composition in a painting, but also like a contemporary edge, visible brushstrokes. Colour mixing is important — as is tonality, and a sense of humour which strikes me as very Australian".
This text utilizes material from conversations between the author and Robert Brownhall and also from an essay published previously with Robert Brownhall's exhibition of twenty years work at the Museum of Brisbane (2011). For more information, see the full essay text for Somewhere in the City: Urban Narratives by Robert Brownhall, 2011, at the Museum of Brisbane website
Louise Martin-Chew
Image: High rise couple (2014) oil on linen, 90 x 189 cm