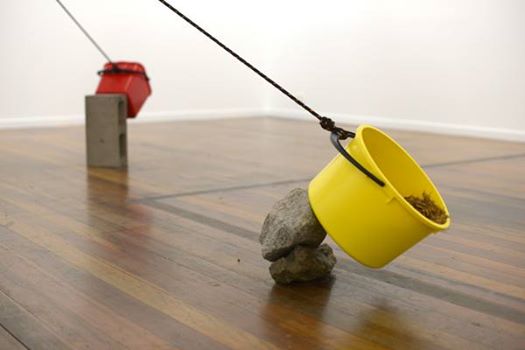 Delicate yet robust, large in scale but intensely intimate; the works in Social Structures have an inherent duality. The exhibition brings together artists who use industrial materials, common hardware supplies and found objects to make works that explore social concerns and personal relationships. Integral to each is a precarious balance and tension, in the meeting of disparate elements but also in their suspension in space. In some cases this is heightened by performance or participation; bodies that both disrupt and create equilibrium.
The works create experiential moments and encourage different encounters within the gallery space. Kinly Grey creates interplay between light, reflection and visitors; an invisible or blinding beam, depending on your perspective, speaking to connection and disconnection. Anna McMahon's installation comes from the examining of her own queer life experiences. Suspended across the gallery she makes a tenuous sling with latent energy cradling an object at its centre. Playfully appearing as a construction site with BDSM sensibilities, Tayla Haggarty's work considers the politics of lesbian sexuality and relationships. Bodies will balance on the structure when performers engage with her work on opening night and for the afternoon of Saturday 10 June
Within their structures, each of the artists have combined otherwise cold materials to suggest the autobiographic and interpersonal.
Curated by Amy-Clare MccCarthy.
Gallery open: Monday to Friday 10am-4pm, Saturday 2pm-4pm. Gallery open until 8PM Thurs 8 – Sat 10 June. Please note that the exhibition continues through until Saturday 24 June.
Also check out our ARI Gallery, where Cut Thumb Laundry present Lapsed by Torin Francis.
Social Structures and Lapsed are part of our major TAKEOVER event for 2017; (The View) From Here: A Small Perspective on Big Ideas.