WHEN

: 9th August - 21st September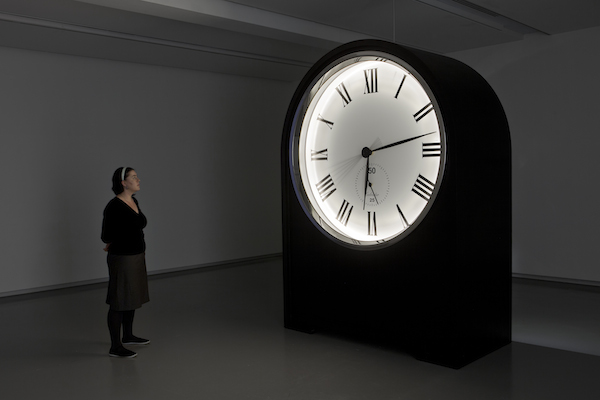 The IMA is delighted to present Kraft, the first survey exhibition of Melbourne-based artist Stuart Ringholt. As part of his diverse practice, Ringholt leads audiences on naturist gallery tours, anger workshops, and participatory performance works that invoke embarrassment, fear, laughter, and love. Ringholt also makes videos, absurdist sculptures, painted mirrors, and collages.

Occupying all four of the IMA's galleries, this exhibitions includes two ambitious new commissions, Untitled (Clock) and Club Purple (both 2014), shown in context with a selected survey of recent videos, drawings, collages, and sculptures. Ringholt's practice challenges audiences to engage with personal themes, such as the fear of embarrassment and the pressure to conform to social norms, using remarkable humour and sensitivity.

Generously supported by the Catalyst: Katherine Hannay Visual Arts Commission, Ringholt'sUntitled (Clock)—a monumentally scaled and temporally askew clock—has a singular, powerful presence in the gallery, provoking a disorientating and uncanny sense of time and an associated reconsideration of how time may be measured and spent.

In this world of altered time, the IMA features Ringholt's Club Purple—a nude daytime disco. Including mixed and solo dance days, 'ladies days', and an endless playlist to choose from,Club Purple offers a unique experience for audiences who choose to participate and tests the limits of those who choose not to join in.


In Conversation with Carolyn Christov-Bakargiev, Thursday, 7 August, 7pm
On Thursday, 7 August, 7pm, Stuart Ringholt will be in conversation with Carolyn Christov-Bakargiev. The previous Artistic Director of dOCUMENTA (13) in Kassel, Germany, and currently leading the development of the next Istanbul Biennial, Christov-Bakargiev is a renowned curator who has worked closely with Ringholt on a number of occasions. Capacity is limited, RSVP is essential. 


Exhibition Opening and Anger Workshop, Saturday, 9 August, 4pm onwards
IMA Members are welcome to attend a special preview on Saturday, 9 August, 4–5pm, followed by a public reception 5–7pm. During the opening, Stuart Ringholt will conduct an Anger Workshop. 


About the Artist
Stuart Ringholt (b. Perth, 1971) has held solo exhibitions at institutions such as Monash University Museum of Art, Melbourne; the Australian Centre for Contemporary Art, Melbourne; and Club Laundromat, New York. His major group exhibitions include Melbourne Now, National Gallery of Victoria, Melbourne, 2014; The Last Laugh, apexart, New York, 2013; and dOCUMENTA 13, Kassel, Germany, 2013. He is currently a PhD candidate at Monash University and is represented by Milani Gallery in Brisbane.