WHEN

: 11th July - 6th August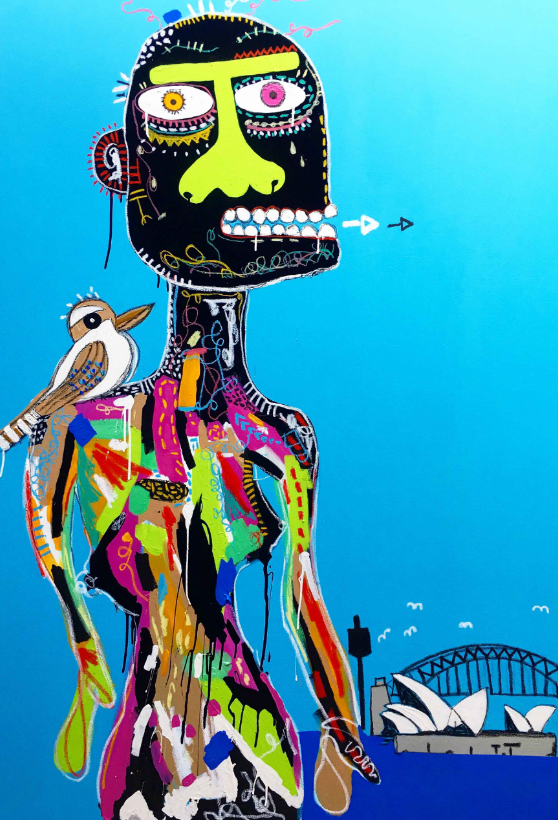 The art of Bruce Earles and Kristian Williams projects an enthusiasm that is infectious. Both presenting a different response to urban environments, their works pulsate with life, light and colour. The two artists create different perspectives of energy; with Earles generating external, environmental energy while Williams captures an internal chaosthrough bold colours and shapes. "Urban Energy" uncovers new works by the Australian artists, bringing colour and vitality into REDSEA Gallery this July.
Bruce Earles and Kristian Williams complement each other's art practice, not only though the attention grabbing colour use, but through their ideas surrounding urban life and capturing the raw essence of childlike naivety.
Bruce Earles' work celebrates urban life, describing it in an existential sense, focusing on the isolation of the individual. Figures, airplanes and animals become a common motif in his paintings, bound by thick paint application of bright colours. The iconic birds eye view captures various urban environments, whether they be beaches or parks, there is a common theme of segregation and water.
Bruce's naïve and recognizable painting style was defined in the early 1980's as a highly influential member of Melbourne's 'Roar' collective, where he worked alongside artists such as David Larwill, Pasquale Giardino and Sarah Faulkner. The 'Roar' collective set out to have a significant impact on the Australian art scene and works by Bruce Earles and other Roar Studios artists are still highly sought after and collected today.
Kristian Williams captures the angst and honesty of the human condition through tongue-in-cheek humour and the audacious portraits made up of shapes and lines. His paintings leave the viewer asking if his work is a more considered comment on society and the human condition. Neo-expressionism sees a revival in Kristian's work, with hints of primitive, emotionally charged subject matter. Reminiscent of JeanMichel Basquiat and New York's 'punk' scene, Kristian's work holds the same sense of an 'unstudied' appearance yet brought together with skill and technique.
Kristian's much loved, 'Gossip' series invites us to enter the urban environments of characters who reside in locations such as New York, London and now Sydney. The viewer is faced with a character of modern day society; with a neutral stance, they listen to birds tweeting in their ear. With figures designed out of vivid shapes and imaginative colours, Kristian has welcomed us into the buzz of an electric metropolis.
Together, Bruce Earles and Kristian Williams's joint exhibition is a celebration of colour and energy. With two unique perspectives of urban environments, REDSEA Gallery is delighted to welcome "Urban Energy" to Brisbane this July.
Exhibition Opening: Saturday, 15th July 2:00pm – 4:00pm