WHEN

: 30th November - 23rd December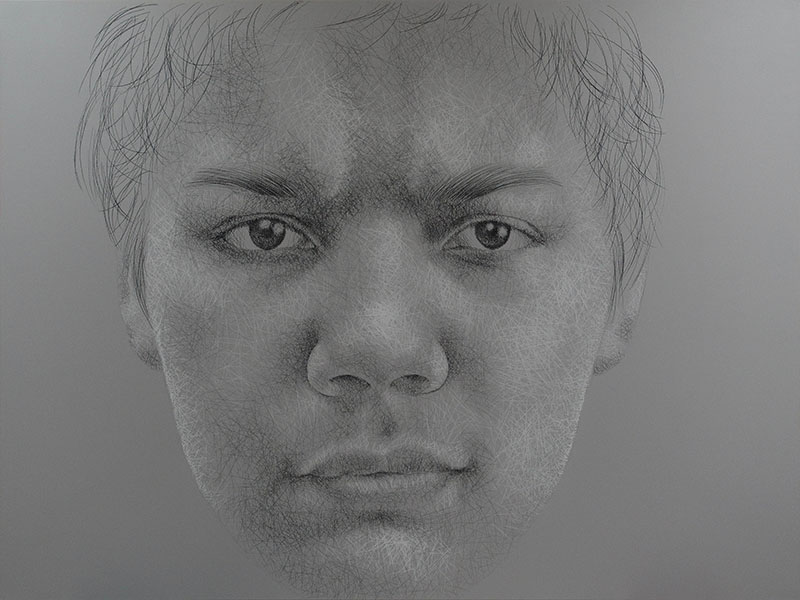 Born in Far North Queensland, Vernon Ah Kee is a conceptual artist and a founding member of the Brisbane-based proppaNOW artists' collective. He has a Bachelor of Visual Arts (Hons) at the Queensland College of Art, Brisbane. Vernon's work critiques Australian popular culture, particularly the dichotomy between Aboriginal and non-Aboriginal societies and cultures. His art practice consists of video, 3D installation, photography, digital design, painting, printmaking, and drawing.
Vernon represented Australia at the 53rd Venice Biennale in the group exhibition Once Removed (2009). His work was featured in exhibitions such as Culture Warriors: National Indigenous Art Triennial at the National Gallery of Australia (2007); Revolutions-Forms That Turn: 16th Biennale of Sydney (2008); Figuring Landscapes at the Tate Modern, London, UK (2008); Contemporary Australia: Optimism, at the Gallery of Modern Art, Brisbane (2008); Erased: Contemporary Australian Drawing, the National Art School Gallery, Sydney (2009); proppaNOW: Putsch at Tandanya National Aboriginal Cultural Institute, Adelaide (2010) and proppaNOW: The Black See at KickArts Contemporary Arts, Cairns (2011); UnDisclosed: the 2nd National Indigenous Art Triennial at the National Gallery of Australia (2012); Theatre of the World (2012) at the Museum of Old and New Art, Hobart; Volume One: MCA Collection at Museum of Contemporary Art, Sydney (2012); Everything Falls Apart, Part II (2012) at Artspace, Sydney; Insurgence at the Museum of Australian Democracy (2013); Australia at the Royal Academy of Arts, London (2013); My Country: I still call Australia home, Queensland Art Gallery | Gallery of Modern Art, Brisbane (2013); Sakahan: 1st International Quinquennial of New Indigenous Art, National Gallery of Canada (2013).
Opening event: Saturday 2 December, 11am – 1pm
IMAGE: Vernon Ah Kee, Michael 2017, 180 x 240cm. Acrylic, charcoal, crayon on linen.  Bio Text