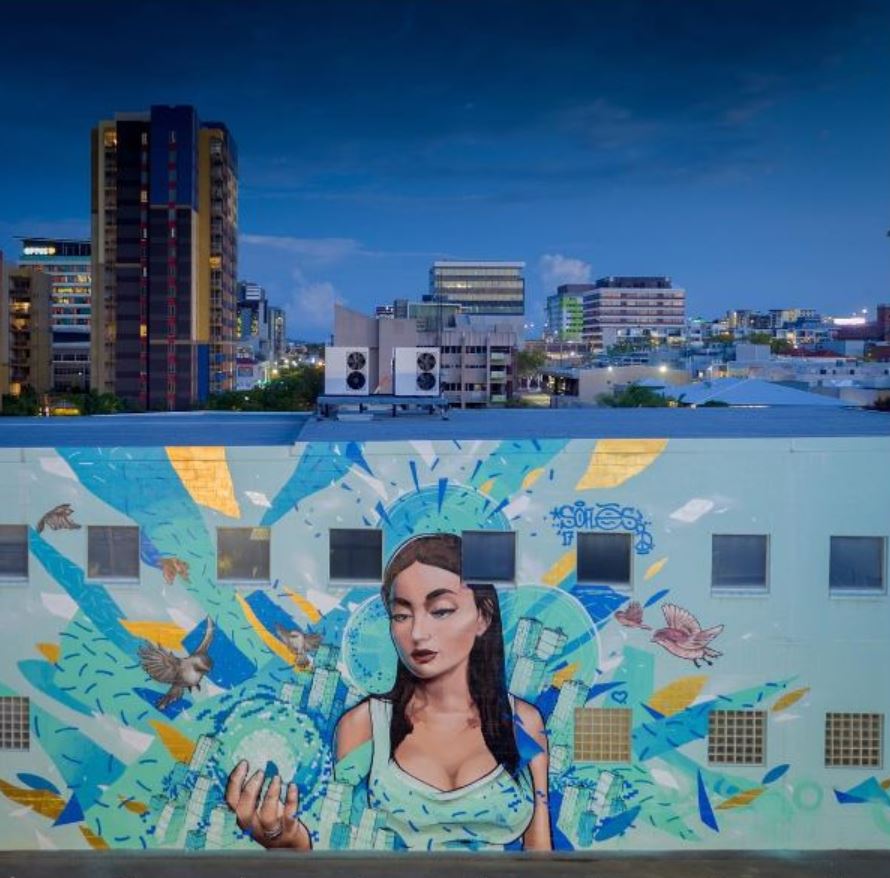 Street artists from around the world gather in Brisbane to create 50 new large scale murals for the city.
Street artists from near and afar will gather in Brisbane from 31 March to 15 April to transform walls into canvases and redefine the way people engage with public art during Brisbane Street Art Festival (BSAF) 2018.
Brisbane's annual street art festival returns for its third year with its biggest program yet. More than 50 Australian and international artists will create 50 large scale murals in South Brisbane, Spring Hill, Fortitude Valley, Paddington, Annerley and Brisbane's CBD – double the number of murals created in 2017.
Notable works will transform Fish Lane, a Telstra Exchange Building, Ric's Bar and Brisbane Powerhouse thanks to spaces provided by partners ARIA Property Group, Brisbane City Council (BCC), Brisbane Powerhouse, Ric's and Telstra.
For BSAF 2018, festival organisers have curated street art masters from Malaysia, Indonesia, Hong Kong, England, Colombia and Mexico to join leading Australian artists such as Sofles, Gus Eagleton, Fuzeillear, Emmanuel Moore, The Brightsiders, Sindy Sinn, Shida and Sirmano, many who hail from Brisbane.
Colombian artist Gris One will join Hong Kong's self-taught street art queen Bao Ho, Mexican calligraphy specialist Said Dokins, Malaysian artists Kenji Chai and Cloakwork, London geometric guru Rosie Wood and Indonesian artist Tuyuloveme to paint their first ever works in Australia.
Festival Director Lincoln Savage said street art is helping redefine the city of Brisbane.
"The program is bigger and better and signals Brisbane's creative potential, we encourage all locals and visitors to come out during BSAF to see new artworks created before their eyes," said Mr Savage
"This year seven international artists are joining us for the festival, including six who have chosen to paint their first Australian work in Brisbane, which speaks volumes about our ability to attract great artists and the recognition the international community has for our burgeoning street art culture."
Festival organisers have been working closely with Alethea Beetson, director of Digi Youth Arts, to ensure the program supports and nurtures Indigenous artists and the murals reflect stories of their people. Mexican artist Said Dokins will paint a large mural on the Telstra Exchange building in Spring Hill, lending his style of street calligraphy to a piece focusing on keeping Indigenous languages alive.
Brisbane art duo Land Writers, known individually as Warraba Weatherall and Daniel Jones, will also make their mark on the city, transforming the laneway at 181 George Street with what will be a moving piece.
Led by Indigenous artists Dylan Mooney, Tori-Jay Mordey and Kiana Larkins, nine artists will gather to create temporary artworks on the QPAC Cultural Forecourt as part of Festival 2018, the Gold Coast 2018 Commonwealth Games' statewide free arts and cultural program. The artists will work together to create works that celebrate Brisbane and pave the way for a shared vision of the future.
Another highlight of BSAF will be Within These Walls, a major one-month long exhibition featuring works of all shapes and sizes from 50 local and international artists at Brisbane Powerhouse, opening on Thursday 12 April.
Cezary Stulgis will also team up with Australian street art legend Benjamin Reeve for a momentous return to paint a new mural on the Brisbane Powerhouse. Cezary last graced the building's walls over 20 years ago before it was transformed into the building it is today, with two of his works on the building now heritage protected artworks.
BSAF also provides an important platform for emerging artists. This year BCC has provided four city-owned public walls as canvasses, two of which will be painted by artists involved in the BCC Youth Art development program, which links emerging talent with industry veterans.
The festival will kick off bang on Sunday 1 April with a free launch party at Ric's in Fortitude Valley. Brisbane veterans Drapl and Treazy will paint a mural in the bar's backyard area and live music will be provided by The Gametes, FeelsClub, Desmond Cheese and YELLOWCATREDCAT. The launch will also see the resurrection of Scribble Slam, a live art battle between two artists, Bao Ho and Sunshine Coast artist EJ Zyla. Each artist will create a work focused on a theme that is revealed on the night, with one artist to be crowned the winner. Scribble Scram will be a monthly event at Ric's with a rotating lineup of artists.
When: Saturday 31 March to Sunday 15 April
Where: Brisbane, Queensland
Cost: Free
For more information and live art viewing sessions click here 
Full lineup of Brisbane Street Art Festival 2018 artists:
ASIO, Adam Stockdale, Ashley Peel, Bao Ho, Basix, Benjamin Reeve, Brienné Amiria Aspinall, Brightsiders, Cezary Stulgis, Cloakwork, Crush City Crew, David Houghton, David Sargent, Diz Brown, Drapl & Treazy, Drdrule, Dylan Mooney, EJ Zyla, Emmanuel Moore, Fuzeillear, Gris One, Gus Eagleton, Imogene Peach. Julia Townsend. Kenji Chai, Kiana Larkins, Land Writers, Leah Falcocchio, Lisa Kelly, Mandy Schone-Salter, Meks, Mike Shankster, Said Dokins, Sam Bradley, Sindy Sinn, Sophia Mary Mac, Rosie Woods, Sarge, Shani Finch, Shida, Sirmano, Sofles, SNARL, Tori-Jay Mordey, Tuyuloveme and Xandolino.