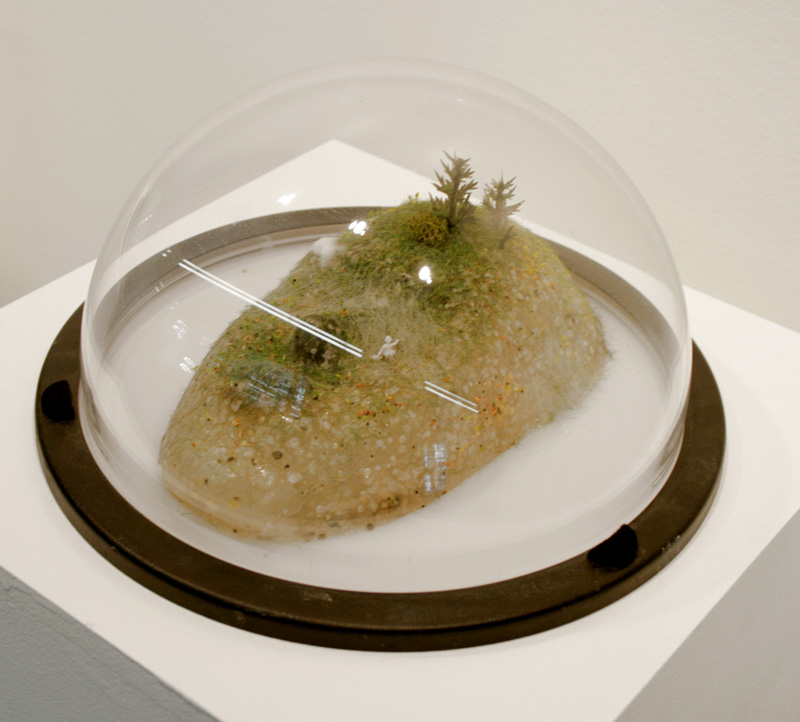 —Svenja Kratz is a contemporary Brisbane based artist interested in interdisciplinary and transdisciplinary creative practice, particularly the intersections between science and art. Svenja's work gives rise to the complex relationships between humans and other organisms, engaging with the human endeavour to understand, manipulate and control the world around us, particularly through scientific research. Through her practice she also plays on the illusion of real and imaginary; contrasting popular cultures adaptations of science/myth with biological evidence and depictions of scientific truth.
—BIO
—She originally trained in cross-arts practice at the Griffith University School of Art and graduated with first class honours in new media art in 2004. Following the completion of her undergraduate degree, Svenja produced a range of works both independently and in collaboration with other artists. These works were exhibited throughout Australia including the InfoZone at The State Library of QLD (Brisbane), Auraluen Centre for the Arts and Entertainment (Alice Springs) and the Bathurst Regional Art Gallery (Bathurst).
—From 2008 – 2012, she worked as an artist in the area of cell and tissue culture at QUT's Institute of Health and Biomedical Innovation (IHBI). During this time she produced three major bodies of work that mapped her engagement with contemporary biotechnologies including primary culture of human and fetal calf cells, tissue and genetic engineering. These projects include: The Absence of Alice – a series of mixed media exhibitions originally inspired by the artist's engagement with the Saos-2 cell line, The Immoralisation of Kira and Rama – a living bioart display of fetal calf cells and The Human Skin Experience/Equivalent Project – a jewellery project incorporating tissue engineering practices.
—Creative works developed during this period were exhibited at local, national and international venues including Metro Arts (Brisbane), The QUT Art Museum (Brisbane), Spectrum Project Space (Perth), Science Gallery (Dublin) and the Powerhouse Museum (Sydney).
—In 2013 she received the QLD Premier's New Media Scholarship and undertook a 5-month residency at Leiden University and the Art and Genomics Centre in The Netherlands, where she explored mutagenesis and bioengineering for future energy production.
—She holds a PhD in Contemporary Art and Biotechnology from QUT, which was completed in a creative partnership between the Creative Industries Faculty and IHBI.
—Text – Spiro Grace Art Rooms (2014)
Image – The Contamination of Alice: Landscapes (2010) Agar, Bacterial and Fungal Colonies, Seeds and Sprouts. Installation View
Website – www.svenjakratz.com