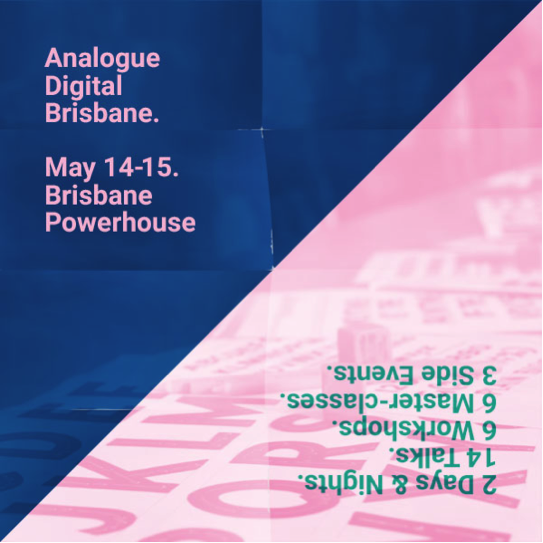 In 2015 we are proud to announce that we have found our new home at the Brisbane Powerhouse. This heritage listed venue delivers an Analogue Digital experience like nothing before. Sit closer to the action than ever before with over 500 stadium seats towering two and a half stories into the creative atmosphere that is: Analogue Digital Brisbane 2015.
With a state-of-the-art audio system and dual screens boosting live video and presentation stills, be prepared to be fully immersed in the Analogue Digital experience. Featuring 14 heavy-weight presenters including keynote from CEO and Executive Creative Director of BASIC agency Matthew Faulk, Analogue Digital 2015 is going to redefine your expectation of what a design conference should be.
Presentations will now run for 30, 45 or 60 minutes, a decision designed to maximise the impact of each presenter and each style and mode of talk. Keynote presentations will take you on a journey of creativity; breaking down specific projects from start to finish while feature presenters will hone in on 12 reasons you should look forward to your future as a creative leader here in Brisbane.
In the last five years, much like ourselves, many of our loyal fans have graduated, matured and are now climbing the corporate ladder as world-class creative leaders in their own right. For this reason we have made three significant changes for the forthcoming Analogue Digital Design Conference.
Doors will now open at 12 midday allowing the majority of our guests to arrive at a pace suited to their creative needs. Is it a trade off with your boss? Or perhaps an opportunity to travel to Brisbane and experience our city and the wonderful surroundings of Fortitude Valley and New Farm. It's your day, your event and this year you can arrive at your pace.
Registration will be sent to your postal address by The Powerhouse Brisbane on behalf of Analogue Digital. The silver service doesn't stop there either. Entry to Analogue Digital will a breeze with a professional team managing this process for us. Expect to start on time in air conditioned comfort!
Last but not least, we're introducing six professional development workshops for the creative leader searching for a competitive edge. From intimate 'idea generation' classes with award winning humans, Andy Wright and Jason Little to 'sign-painting' and 'hand-lettering' classes with Frank & Mimi and Georgia Hill, we have planned something very special for you. Numbers are limited so get in early. Please note: AGDA members will receive 20% off these classes. We love AGDA and we hope you do too.
We can not wait for Analogue Digital this year and are looking forward to contributing to the most important year of your career: 2015. Before you arrive however, follow Analogue Digital on either Twitter, Facebook orInstagram for announcements, insights and updates. By following us on Twitter, you will also be able to participate in Q and A with #adbne15.
We look forward to seeing you again this May 14-15.