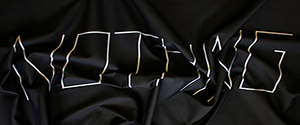 How can we decouple our attention from the objectives that drive our lives – self-positioning, the promise of novelty, opportunities, life narratives, the constant maximising of pleasure and possessions?  
Everything is a Distraction is part object iconography, part instructional video and part transcendental advertisement. The exhibition uses sculpture, video, photography and drawing to attempt (if only for the moment of viewing) to abolish the impetus to move quickly, gather points and cement meanings. Appropriation and editing, refocused repetition of styles and gestures, and the staging of perspectival "distortion" will present the viewer with a seemingly confusing, mixed-message infinity of possible meanings.
Marnie Edmiston is a visual artist based in Melbourne, Australia. Her practice is situated within an overlap of language, text and image. She is interested in perpetual cycles of looking and re-looking—of what it is to experience the world as a subject and re-present those experiences. Her practice engages with the unheimlich, shifting meanings, the absurd, humour, incident and accident.
OPENING // 19 March, 6pm
EXHIBITION // 19 March – 5 April
ARTIST TALK // 26 March, 6pm
FRIDAY NIGHT // 4 April, 5:30pm onwards
METRO ARTS GALLERY, Level 2