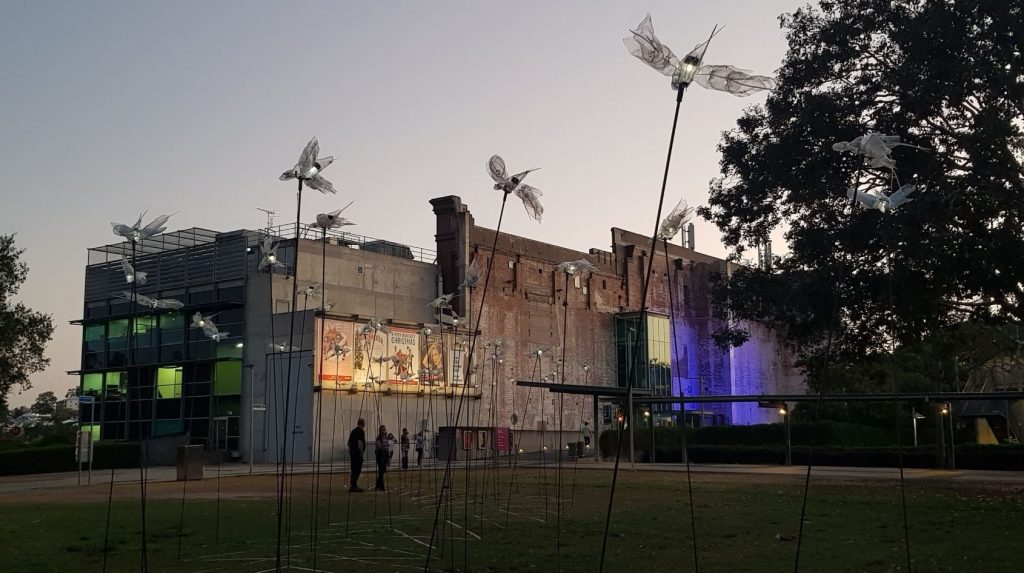 Using art to transform waste, a hovering line of birds flies across the Performance Lawn towards the river, a hopeful reminder of the need to protect the habitat of migratory shorebirds, who travel the East Asia-Australasian Flyway every year. FLOCK was created in recognition of this incredible journey and to highlight our responsibility to manage MOOP (Matter Out Of Place) in coastal environments.
Incorporating internal solar lights and recycled plastic bottles, collected from local schools as part of the Wings of the World program, FLOCK was first developed in response to a Brisbane City Council commission celebrating the 20-year agreement between Brisbane's Boondall Wetlands and Japan's Narashino Wetlands. The environmentally themed public artwork responds to the importance of the Ramsar Convention for the international protection of Waterfowl Habitat.
The work was made at the Queensland College of Art, Griffith University, where Claire and Annique are both Doctoral Candidates.
WORKSHOPS
Join us in making your very own plastic bottle bird as part of the FLOCK installation at Brisbane Powerhouse.
Participants in these environmental sculpture workshops will make a 'bird' of their own, complete with its own solar light. The finished bird can then be taken home to soar above your own garden, promoting ideas of environmental awareness, habitat protection and waste transformation through art.
The workshops will be run by the FLOCK artists Claire Tracey and Annique Goldenberg.
DATES
Wed 20 (11am + 2pm ) + Thu 21 Jan (11am), 2021