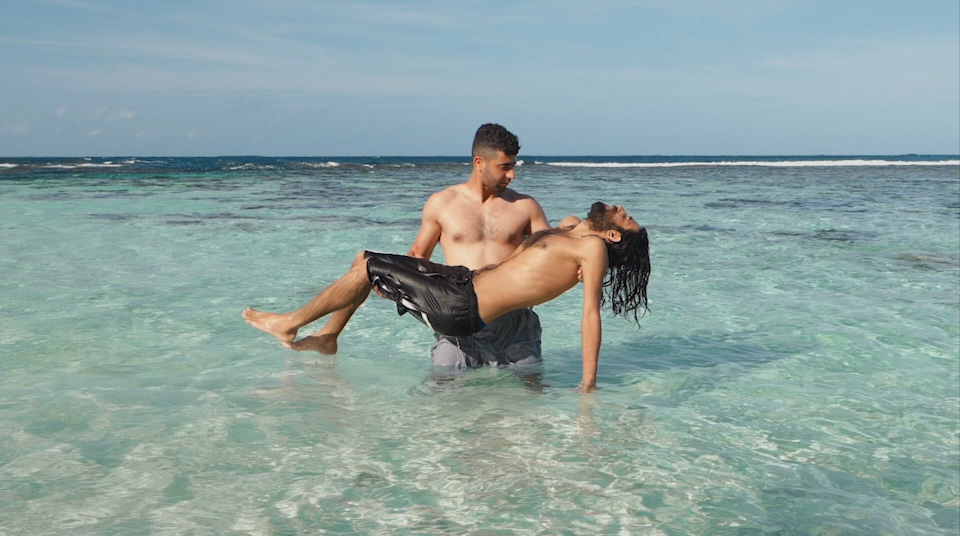 Remain, 2018 addresses invisible histories through the contentious interlinked topics of Australian border protection and the human rights of asylum seekers. Filmed on the infamous Manus Island, an immigration detention facility in Papua New Guinea, the work delivers a powerful depiction of the prolonged mistreatment of detainees.
Afshar weaves a haunting narrative as her camera follows a group of stateless men who remain on Manus Island despite the centre's closure in October 2017. Through a series of intersecting stories, each recounts the violence and hopeless desperation they have experienced, including observations of murder, riot and suicide. One such voice is Behrouz Boochani, a Kurdish Iranian writer who recites poetry. Another man vocalises a palpable sense of stripped identity and purpose through song. These deeply confronting stories are dramatically contrasted by the seemingly idyllic environment in which the work is setꟷamong lush, tropical rainforest. Described as a 'green hell' by one of the protagonists, the men are imprisoned in a perpetual state of limbo.
Through a re-thinking of the documentary form, Hoda Afshar's collaborative two channel video enables the revelation of concealed histories and repressed voices. Unflinchingly political, the artist draws attention to the ramifications of national policy on the human rights of the individual.
Hoda Afshar was born in Tehran, Iran (1983), and is now based in Melbourne, Australia. She completed a Bachelor degree in Fine Art– Photography in Tehran, and recently submitted her PhD thesis in Creative Arts at Curtin University. Afshar began her career as a documentary photographer in Iran in 2005, and since 2007 she has been living in Australia where she practices as a visual artist and also lectures in photography and fine art. Through her art practice, Afshar explores the nature and possibilities of documentary image-making. Working across photography and moving-image, she considers representations of gender, marginality and displacement. In her work, Afshar employs processes that disrupt traditional image-making practices, play with the presentation of imagery, or merge aspects of conceptual, staged and documentary photography. Afshar is a member of Eleven, a new collective of contemporary Muslim Australian artists, curators and writers whose aim is to disrupt the current politics of representation and hegemonic discourses.
Afshar's work has been widely exhibited both locally and internationally and published online and in print.  Recent solo exhibitions include Behold, Perth Centre for Contemporary Photography, Perth, Mars Gallery, Melbourne, Horsham Regional Art Gallery, Victoria, and Centre for Contemporary Photography, Melbourne (2017–2018); and In the exodus, I love you more, Wallflower Photomedia Gallery, Mildura, and Brightspace Gallery, Melbourne. Recent selected group exhibitions include Just not Australian, Artspace, Sydney (2019); National Anthem, Buxton Contemporary, Melbourne (2019); PRIMAVERA 2018: Young Australian Artists, Museum of Contemporary Art, Sydney (2018). She was the winning recipient of the National Photographic Portrait Prize, National Portrait Gallery, Canberra (2015) and also the Bowness Photography Prize, Monash Gallery of Art, Melbourne (2018). Her work is held in numerous private and public collections including the National Gallery of Victoria, Melbourne; UQ Art Museum, Brisbane; Murdoch University Art Collection, Perth; and Monash Gallery of Art, Melbourne.
Hoda Afshar: Remain 2018, 2 channel HD video, 23:29 mins, Collection of The University of Queensland, purchased 2018.