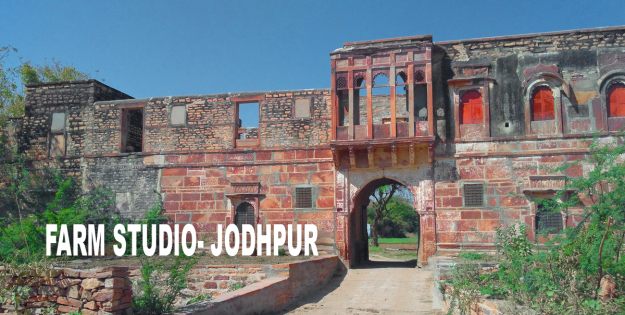 Farm studio is a non-profit art space in Rajasthan, India. It has an open call for artists residencies in both urban and rural areas of Rajasthan. The aim is to  promote and celebrate the community's artistic and cultural identity and support community-based open platform where creativity can unfold free from accustomed distractions.
There is an OPEN deadline – applications must be received at least 2 months before your proposed dates.
A unique atmosphere of entirely new environment, developing interrelationships among artists from different geographical locations having varied social, religious and cultural perspectives, foster collaboration, encourage experimentation, exchanges and dialogues among artists and art and culture lover. As well as to bring to the community the art and culture of other communities in order to broaden their experiences and appreciation of the artist.
Farm artist residency are open call between July to March, with accommodations available for up to six residents at one time. When applying, consider that it might take a little time to adjust to the environment, particularly if you are new to Rajasthan (INDIA); and if you are planning a large outdoor project, the weather might not always be your cooperative companion. The following is a general guideline of what is offered and what is requested in return. If any questions remain or you wish to clarify a specific item send an email us.
Disciplines: Visual Art (Interdisciplinary or Drawing, Painting, Photography, Sculpture, Installation, Performance art), New Media Art, Film maker, Curator, Research, Writing and Music.
Farm Residency program for professionals, emerging or established, in all areas of the arts and offering accommodations and studio space to pursue their art in exchange for a contribution of labour of 8 hours per week to help renovate and maintain Farm studio buildings and grounds as well as other projects, suited to skills and temperament. All who apply need to be self-motivated and resourceful and appreciate a quiet working environment. Farm studio location is Jodhpur (urban)  and Andore (rural).
Application criteria
Applications are accepted on an ongoing basis, artists will be selected subject to motivation, work sample and availability.
It is compulsory for the artist to arrange his/hers own insurance to cover any possible accident, loss or damage (including but not limited to health insurance and general liability insurance) during their stay in India.
Applicant are responsible for travel, visa, materials, entertainment, food costs and insurance.
Farm studio will not be liable for any loss, theft or damage and provides no insurance covering any work, equipment or materials belonging to any user.
farm AIR provide you three type of working space. Where you can explore your art and idea with urban and rural environment. Any creative discipline get opportunity  to  interact with Indian rural art research with farm art possibility.
Applicant contribution for farm maintain 100 $ US dollar per month.
Duration of residency: From 2 weeks to 3 months
Accommodation:
Self-catering accommodation, bedroom, open landscape, electricity, water.
Application Deadline: two month before.
Please submit the following with this application
Residency Application form(word)
Current resume / curriculum vitae.
6-8 images/ 3-5 video links with a clear description of the works.
Artist Statement (200 word max)
What is motivating you to come to Rajasthan, INDIA ? (200 word max)
Project Proposal (200 max)
Copy of passport
The entire application submit via email to:  farmingartstudio@gmail.com
For more information please visit the – Website