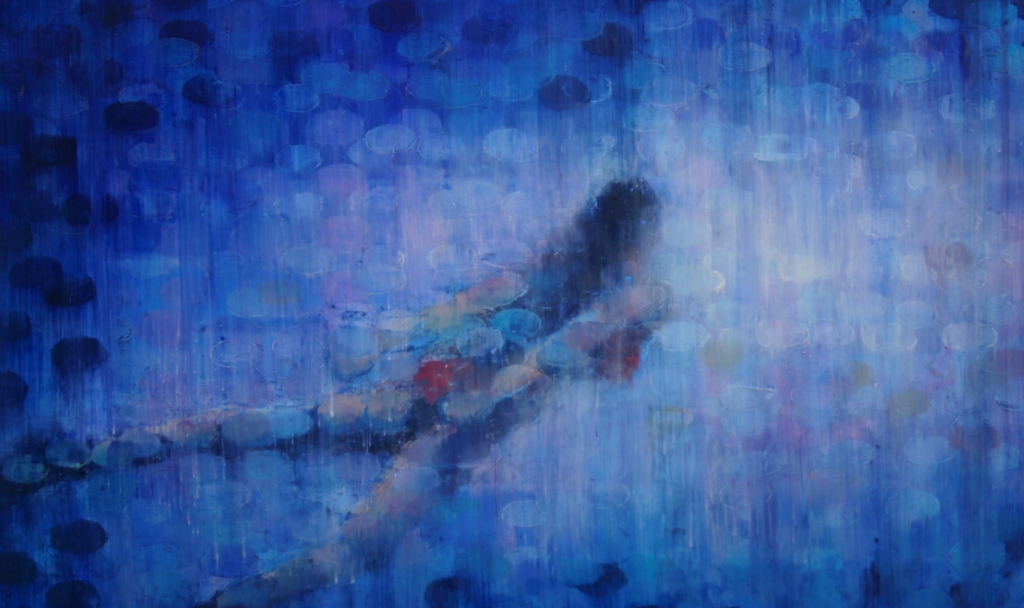 Australian artist, Joseph Rolella has captured Australia's summer once again in his latest exhibition, "Above and Below". From lounging on the deck to being submerged below the tranquil surface of a pool, Joseph Rolella takes us on a journey above and below through his unmistakable paint application. By balancing figurative and abstract imagery, this exhibition will prove to highlight Rolella's unique artistic talents as his trademark textured surfaces create both a calmness and a resonating energy.
Pools in Australia range from the wild and dramatic, the ferocious salty seas crashing over tidal pools, to the contained and domesticated. On a practical level, pools hold pride of place in public life; they act as an arena for the old and young, rich and poor to gather together.
Rolella states, "These works can be divided into clusters representing different concerns and a more exploratory tack. The structure of the grid or the oval format, at times, almost obliterated by sweeping veils of colour glazes. What remains is the human ethereal form bleached in light…. A play between a presence and absence and the sense of possibility, an underwater wonderland an arena we all enjoy."
Light, movement and reflection are the essences of Joseph Rolella's work. He masterfully captures these elements through his delicate yet vibrant colour palette. The paint flows around the canvas like a current, moving and drifting. He allows the viewer into these secretive coastal scenes, catching glimpses of boats, swimmers or faceless characters enjoying the heat of summer.
"The more abstract works are an attempt to achieve a sense of balance and calm amidst a sea of texture and surface, the play of light and colour. Essentially the work is about trying to capture light, movement, motion and how the body relates to the surrounding environment of the sea."
Born in Sydney in 1972, Joseph Rolella completed a Bachelor of Visual Art (Honours) in 1994 and was awarded the William Fletcher Trust Scholarship. Rolella then went on to obtain his Masters in Visual Art at the University of Western Sydney in 1998. Critically acclaimed rising star in the art world, Rolella continues to trailblaze through the Australian art world.
He has been a finalist in the Kedumba Drawing Prize held by the Bathurst Regional Gallery, as well as the Gosford Art Prize, and is a Semi-Finalist for the prestigious Doug Moran Art Prize. In 2015 Rolella won the Oakhill Grammar Art Award. His work can be found in exclusive collections such as the Australian Art Investment Trust and Qantas Australia.