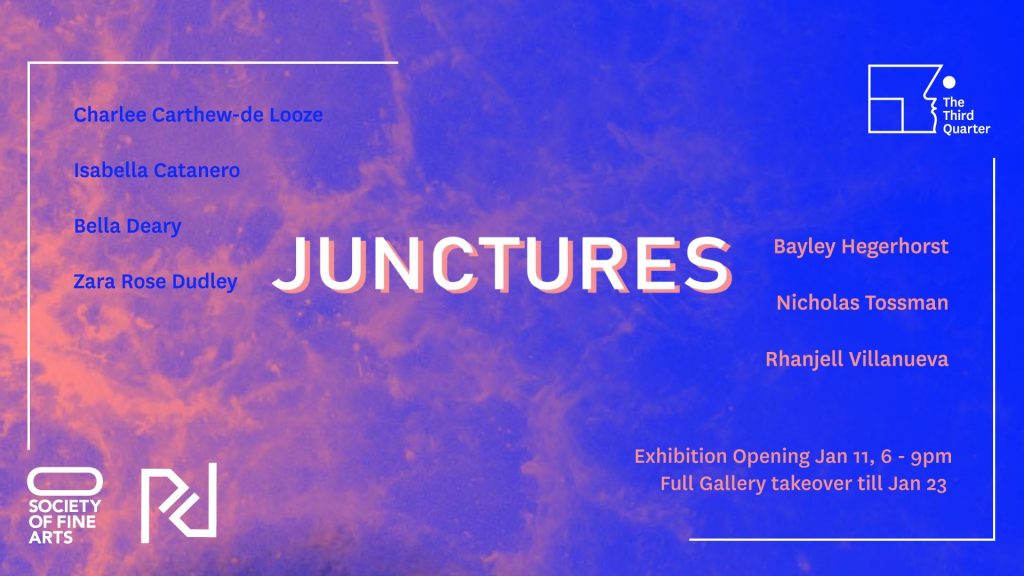 The Third Quarter are proud to kick off our immense 2020 exhibition program with a collaborative exhibition between Post Datum (Queensland University of Technology) and SoFA (University of Queensland Society of Fine Arts).
___
JUNCTURES describes the moment where two parts find a likeness whilst intersecting. It can be a meeting point, a collision or the collection of ideas within a space. Whether harmonious, in unison, or resulting in a violent overlap (nexus), a juncture ultimately represents the realisation of a connection.
JUNCTURES is a collaborative exhibition between the Queensland University of Technology's Post Datum and the University of Queensland's SoFA (Society of Fine Arts). Originating from a juncture themselves, this collaborative exhibition investigates where, how and why we connect, including where we miss-connect, disconnect or simply don't connect. Artists operate from within there own practice to explore how their own work can stimulate or emulate junctures, in particular between artist, audience member and gallery space.
___
EXHIBITION OPENING
Saturday January 11, 6 – 9pm
Live performance by Isabella Catenaro 6:45pm
Full gallery takeover, showing until January 2
PERFORMANCE NIGHT & ARTIST TALKS
Sunday January 19, 4 – 7pm
Liver performances by Isabella Catenaro, Bella Deary, Nicholas Tossmann & Angus Ethell.
Artist talks from
TQ Bar open
___
The Society of Fine Arts
The Society of Fine Arts (SoFA) is a not-for-profit society re-established in 2012 by UQ students for Brisbane people (especially students & the emerging community) interested in the visual arts.
SoFA is primarily an art appreciation society, focussing on creating personal and professional relationships within UQ and Brisbane, and creating professional development opportunities for its members.
Post Datum
Post Datum is a student-run artist collective comprised of early career emerging visual artists based at QUT, Brisbane. Post Datum is comprised of a diverse range of students from different experiences who devise and develop collaborative projects using a democratic and consensus-based approach.