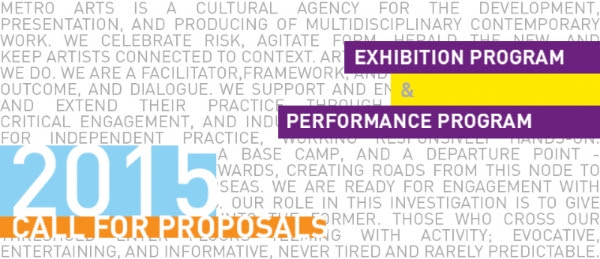 Brave and curious? Ready to ask what's next? Join with us to discover what's new in 2015.
We are now calling for proposals to be a part of our 2015 program, including our Performance, Exhibition and Artist in Residence Programs.
The 2015 Exhibition Program will present exhibitions over 10 months in the Gallery space on level 2.  It will feature exhibitions of high quality work by early career through to established practitioners working across a diverse cross-section of contemporary visual art practice. The program will emphasise quality contemporary practice that demonstrates innovation, experimentation, rigour and critical engagement.
Metro Arts' Artist in Residence studio is adjacent to the Gallery, on level 2. The Artist in Residence will have the opportunity to occupy this space for 12 months (from 1 February 2015) to use for the creation of a body of new work to exhibit in Metro Arts' 2015 Exhibition Program at the end of the year. The emphasis of this program is on the development of the artist's practice through creation of new work during the course of the residency.
Further information and application forms can be found online here. 
EXHIBITION INFO SESSION // 11 June, 6pm
METRO ARTS GALLERY, Level 2
APPLICATIONS DUE //20 June