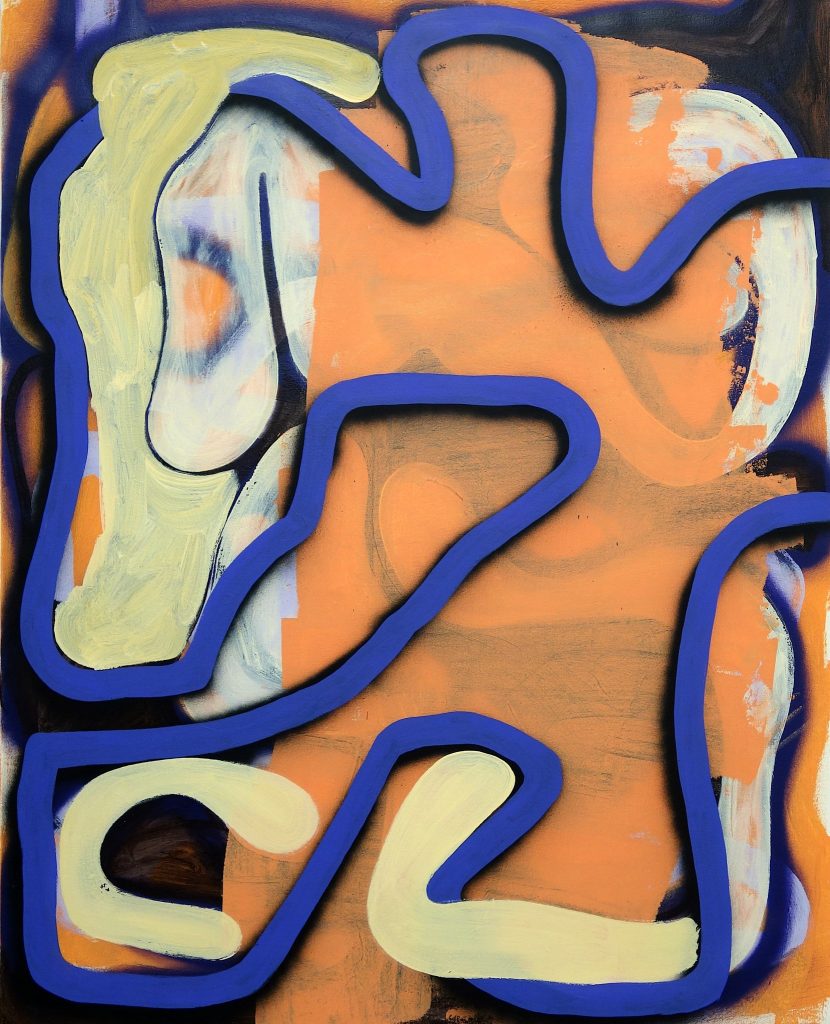 Outer Space presents the first two exhibitions in its new Montague Rd home. Join us for the opening on June 22nd for Mitchell Donaldson's 'Worm Runner's Digest' and Tyza Stewart and James Barth's 'Assuming A Surface'
WORM RUNNER'S DIGEST:

"The catalyst for this body of work was the experiments of biologist James V. McConnell on planarians, a type of flatworm. Planarians have the unique ability to regenerate multiple identical worms from smaller parts of a single worm. This phenomenon interested me as a metaphor for metaphysical problems surrounding human individuation. I explored the worm in my paintings as if it were a magnified line, drawing itself into any number of other forms. This morphing establishes an uncertainty around how individual objects are perceived and depicted. The paintings are rooted in drawing, in which line ordinarily acts to demarcate a figure from a ground. My experiment with line as a figure in its own right, be it worm, intestine, limb, branch, root, river or vein, is extended into a material exploration of line as an edge or limit with the function of both dividing and connecting. The paintings accumulate various approaches to lines as objects of tension or ambivalence. Importantly, the installation of paintings acts as a giant collage in progress. Their composition continually shifts with the viewers perspective, heightening an awareness of the interdependence of the parts and of a lack of resolution. The disruption of traditional figure/ground distinctions in the paintings is paralleled by this implication of the viewer in the installation."
– Mitchell Donaldson
Essay by Ben Crowley
ASSUMING A SURFACE:

James and Tyza both work in painting and digital images to produce ongoing series' of figurative self-portraits. Their artworks critique constructions of (trans)gender narratives, visibility and image production. This exhibition arose from a desire to consider more abstract and non-figurative aspects of their respective practices; to seek open ended, non-prescriptive ways of addressing these ideas.
'Assuming A Surface' is an explorative and process driven exhibition intended to expand upon James and Tyza's existing painting and image making practices. Both artists navigate their own relationship with medium, materiality and speak to the subjectivity of image based visual languages.
About Tyza:
Tyza is a visual artist working in Brisbane. Their ongoing project of self-portraiture looks at ways to communicate experiences of gender as changeable, flexible, and outside prescriptive categories.
About James:
James Barth is a visual artist who primarily with painting and digital media. James is currently studying their doctorate of visual arts at the Queensland College of Art. James' works focus on self portraiture and transgender subjectivity within images. Their work is informed by politics of visibility, image production, and agency.
Essay by Caity Reynolds
Exhibition Opening: 6pm, Friday June 22nd at 1/170 Montague Rd, West End
Image: Mitchell Donaldson