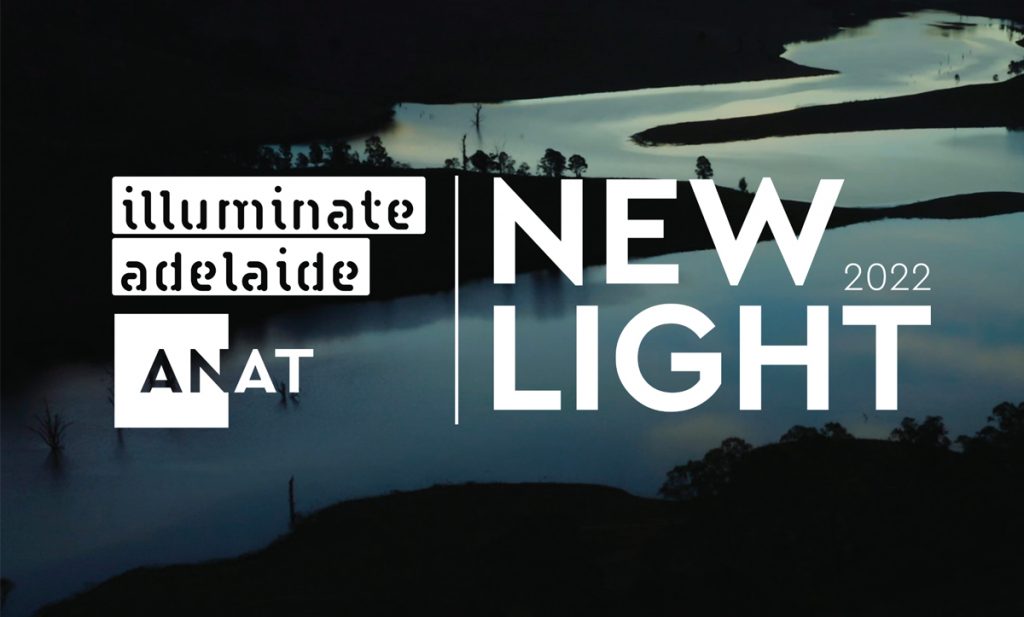 New Light 2022 will showcase experimental and diverse moving image works by First Nations artists.
Through a national call out, New Light will feature selected work by First Nations artists, exploring compelling and complex concepts. The commissioned artworks will be displayed on the media screens at the entrance to the Adelaide Festival Centre in July 2022 as part of Illuminate Adelaide.
BACKGROUND
The New Light program has considerable lineage. A series of moving image works were first commissioned by ANAT in association with the City of Adelaide for the 2017 TARNANTHI: Festival of Contemporary Aboriginal & Torres Strait Islander Art. A selection of contemporary First Nations artists created short experimental projection works, which screened as part of the East End Moving Image program in Adelaide.
The National Film and Sound Archive of Australia went on to support the work to screen at the Enlighten Festival, Canberra in 2018. In 2019, two of the New Light artists were selected to present their work at ISEA2019 in Gwangju, South Korea.
The vision for New Light 2022 is equally ambitious. Following our inaugural partnership with Illuminate Adelaide in 2021, ANAT and partners are excited to announce an opportunity for First Nations artists in 2022.
WHO CAN APPLY?
ANAT is calling for applications from First Nations artists nation-wide. We are seeking to commission a selection of artists/groups, to produce experimental moving-image works of up to one-minute's duration. We encourage applications from artists with video production skills to produce new, quality content mapped to the specifications of the Adelaide Festival (AFC) media screens. Resulting work must be suitable for public display. For more information outlining the specifications and dimensions of the Adelaide Festival Centre media screens please refer to the documents listed under the Additional Information section via this link.
We encourage artists at any stage of their artistic practice to apply (emerging, mid-career and established).
Successful artists/artist groups will receive a fee of $2,000 to produce the work, inclusive of artist fees, production costs and materials etc. All copyright will remain with the artist.