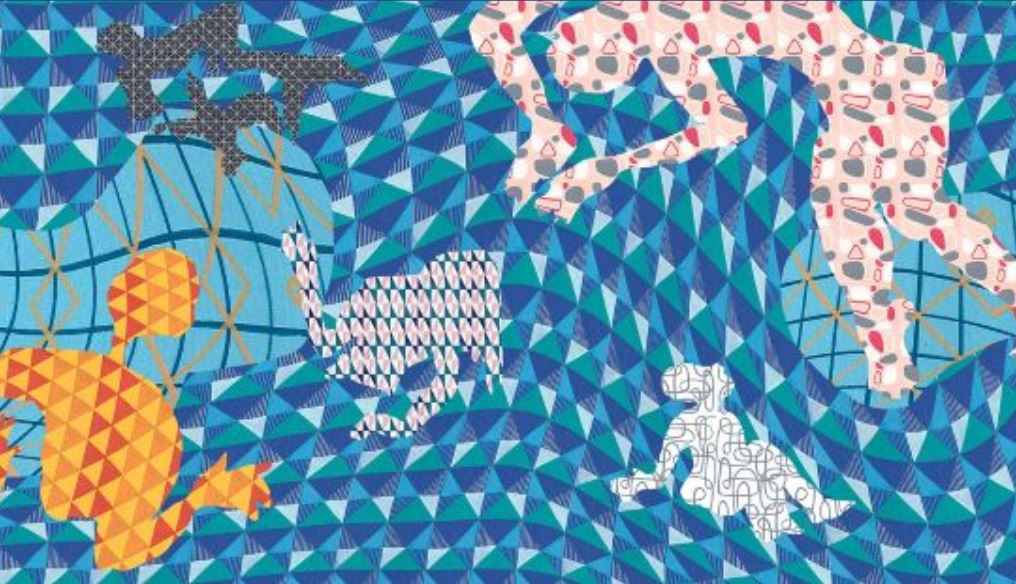 Natalya Hughes, Bathing Scenes in the Pump Room is a stunning new mural on a banner at the terrace at HOTA.
Natalya Hughes' Bathing Scenes in the Pump Room, commissioned by HOTA, presents a scene of bathing figures in silhouette.  Using digitised images of Hughes intricate, patterned painting, the result is a striking, evocative scene full of colour and movement. The 11m banner is mounted above the entrance to HOTA Café.
Hughes has taken the bathing forms from a now destroyed mural by German expressionist painter Ernst Ludwig Kirchner titled Bathing Scenes in the Pump Room at the Sanatorium in Königstein, 1916.
Natalya told us:
"It was a mural Kirchner did while recuperating in the Sanatorium, which was a 'spa guest house' for 'mental treatment'. This is from a series of works I have been making in response to Kirchner's bather paintings. In the image for the banner I have used my own decorative language to translate the original and its contorted nudes in the landscape through which Kirchner seemed to be navigating his mental state and the tumultuous times in which he lived. I'm especially interested in how the nude figures in his work and how it might be re-figured to reflect on my own times."
Natalya Hughes is a Brisbane-based artist whose practice is concerned with decorative and ornamental traditions and their associations with the feminine, the body and excess. Recent bodies of work investigate the relationship between Modernist painters and their anonymous women subjects.
This newly commissioned work will be the first thing you see as you arrive at HOTA. With its graphic pop appeal, its painterly detail and its underlying historical narrative it is a perfect welcome to HOTA.
Natalya Hughes appears courtesy of Milani Gallery.
Image credit. Natalya Hughes, Bathing Scenes in the Pump Room (detail), Terrace Billboard Commission