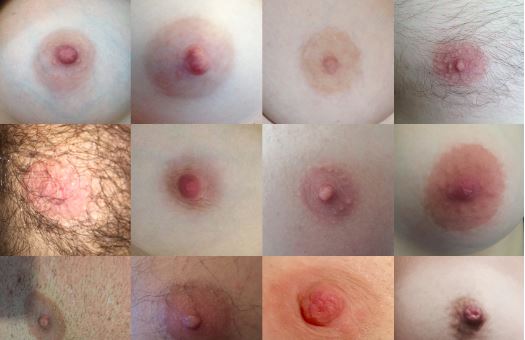 How it works
Nipple Net is a user-generated, internet artwork. Anyone can submit a photo of their nipple and a short comment or story about their experience of their body to add to the work. The photos and stories are combined to create an interactive, collage-style artwork in which users can click the nipples to read about various experiences of the body. 
Nipple Net seeks to challenge negative body image by creating a playful, safe space to discover and celebrate the beauty that exists in the diversity of our bodies. 
For many people, nipples are considered a private area of the body not generally shown in public, and especially not by women. In this space, the body is liberated from social and cultural constraints; the nipple acts a playful device to both equalise and promote diversity. In addition to challenging negative body image, the work promotes gender equality and may assist in desexualising breasts and de-stigmatising public breastfeeding. Through audience participation and internet presentation the work democratises the body and normalises difference. 
Nipple Net was started by Tessa Bergan, a Fine Art student and emerging artist, as a university assignment for a New Media Art course. With the directive to create an internet artwork that engaged with net culture, Tessa considered that user-generated content, interactivity and a quirky idea were key qualities to incorporate into the work.  
In thinking about the context of the internet, Tessa considered that it is a space that fuels negative body image through the often unrealistic images promoted by pornography and social media. As this is achieved through its inherently democratic nature, it is also the ideal place to challenge such issues. And so Nipple Net was born as a means to promote better body image by showcasing diversity and sharing stories. 
To view the exhibition – Click Here