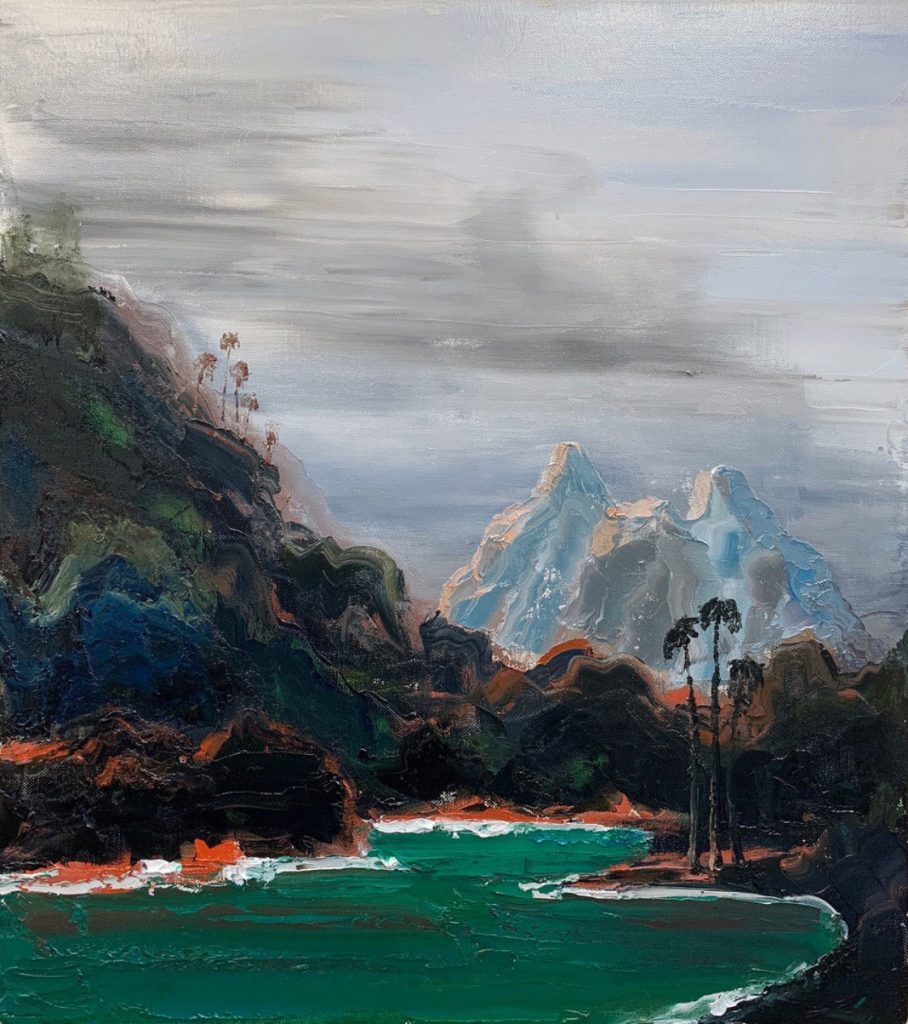 For over thirty years Paul Ryan's practice has been defined by three pillars: Landscape, Portraiture and the Figure in Landscape. The escarpment and sea of the northern Illawarra have been his muse. It is where he lives, surfs and has raised his family and has been one of the constants in an ever-changing life. It is a dark and powerful place, yet beautiful and welcoming.
"There are two paintings of Tahiti in this exhibition, namely Heart of Darkness and Lagoon. Both are based on William Hodges' painting Tahiti Revisited, 1776. Hodges was a member of James Cooks' second voyage to the Pacific. His paintings had a lasting influence on European ideas of the Pacific, in particular the notions of the exotic and unspoiled Utopias. These paintings of my home in Thirroul, and Tahiti are all reimagined ideas of Utopia. Real in the imagination for a few short minutes but ultimately, only illusions." Paul Ryan 2019
Born in New Zealand in 1964, Paul Ryan started exhibiting in 1988 and since then has received many accolades. He is a previous winner of the Paddington Landscape Prize, the Geelong Contemporary Art Prize, the Norvill Prize for Landscape Painting and the Faber Castell Drawing Prize. He has been a finalist in the Archibald Prize 13 times and in 2018 was Highly Commended and a finalist 2006—07 and 2009 in the Wynne Prize, and the Sulman Prize (2009, 2012—13), all administered by the Art Gallery of New South Wales. He's been a finalist in the Doug Moran Portrait Prize (2009, 2011—2014, 2019), the Mosman Art Prize (2009, 2011—2015, 2018), the Kilgour Art Prize (2016, 2018), the Blake Prize (2013) and twice runner-up in the Tattersalls Art Prize and the New South Wales Parliament Plein Air Prize (2008, 2011). In 2015 he won the Hurford Hardwood Portrait Prize at Lismore Regional Gallery for his portrait of Noah Taylor.
He is represented in many important public collections including Artbank, Mosman Art Gallery, Rockhampton Art Gallery, Wollongong Regional Art Gallery, Wollongong University Collection, Manly Art Gallery, Geelong Regional Gallery and numerous Australian and international private collections.
Image: Heart Of Darkness2019, oil on linen, 138 x 153 cm