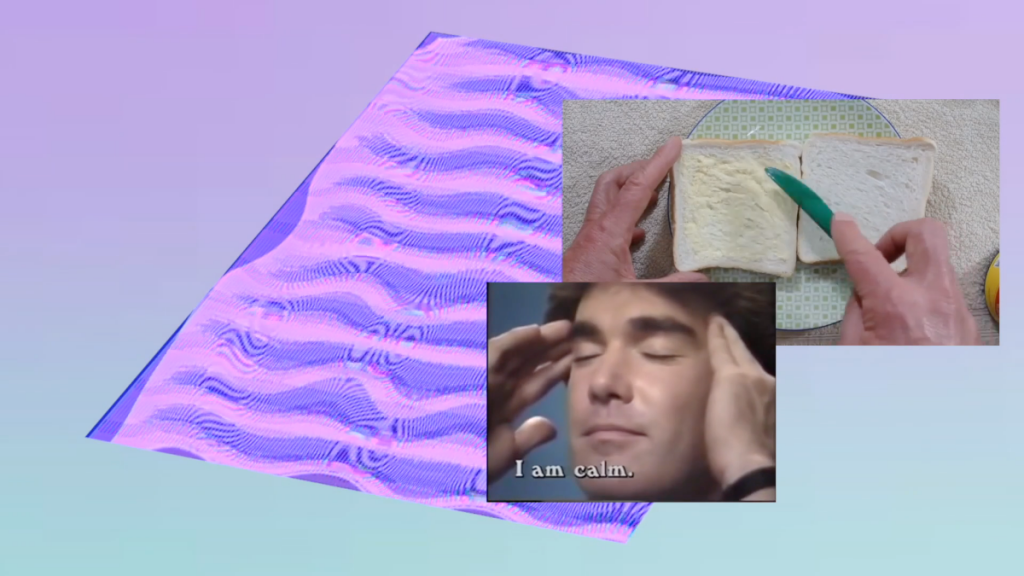 Wading in the shallow tides of youtube temporalities, insipid comments sections and momentary media fads, React Video (2020) explores a meditative consideration upon the vast and vacuous space of internet video fodder and the banal territories of youtube culture. Through a series of unfolding moments shared between collected moving image materials, React Video (2020) extracts and collapses video content from low-budget ASMR, pet videos, VHS gifs, video portraits, spiritual awakening interviews, and social media conspiracists to explore an unsure and dazed space of vacant stares and awkward encounters.
Sarah Byrne is a Queensland artist and performer currently based in Naarm/Melbourne. Her practice forges poetic inquiries with video, sound, voice, and performative screen space. Byrne initiates transgressive dialogues with materials to explore ambivalent considerations of contemporaneity and the psychological terrain of screen space.​ Sarah's recent work embraces the incongruous and vacuous territory of our media landscape. Her practice situates itself as a sometimes unsettling discussion unpacking the complex nuances of contemporary media engagement and the cultural and historical systems that shape it.
Byrne is a Queensland University of Technology graduate, past co-director of Brisbane artist-run-initiative inbetweenspaces​ , and video editor of VHS label ​Video Fle​ x. Sarah is presently undertaking an MFA with Royal Melbourne Institute of Technology and currently fronts experimental improv outfit ​Sky Needle​ . She has exhibited and performed both nationwide and internationally.   Recent projects include: ​Asia Topa: HuRU-hARa​ , Melbourne, 2020​; ​Negative Volumes: Danger Magic​ , Liquid Architecture, Firstdraft, Sydney, 2017; ​Island Salon​ , Cockatoo Island, Sydney, 2015; ​Experimenta: Recharge, Tele-Visions​ , Anne & Gordon Samstag Museum of Art, Adelaide, 2015; ​Zonk Vision:​ ​Pocket Holiday: ​ Spectacle Theater, Brooklyn, 2014; ​Weird Science​ , MCA, Sydney, 2013; ​Found Sound- Reinventing the Wheel: The Readymade Century​ , MUMA, Melbourne 2013.
To view the work – Click Here