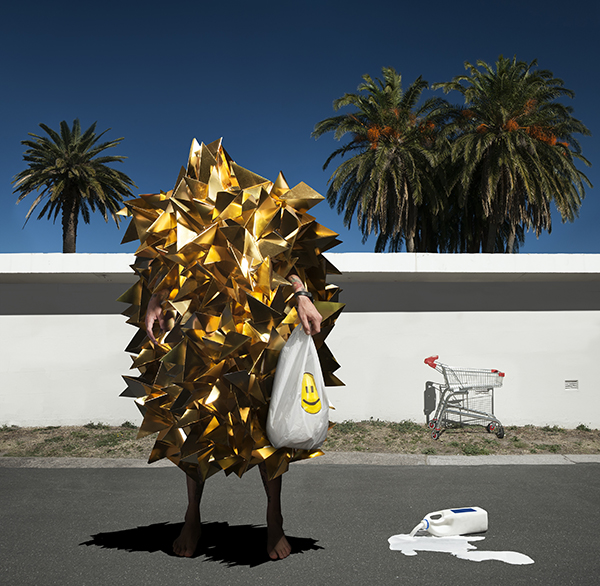 Museum of Brisbane's Artist-in-Residence for November Gerwyn Davies will guide your creation of the ultimate self-portrait in a unique workshop combining elements of costume and sculpture.
Be inspired by the colour-drenched, constructed characters in Gerwyn's photographic works and create an image where you transformed into a sculptural masterpiece of your own making.
About Gerwyn Davies
Combining photography and costume making, Gerwyn Davies' work is an ever-expanding inventory of characters that are assembled, worn and staged for the camera.
Through the layering act of dress, Gerwyn utilises his own body as a platform for reinvention, slowly concealing himself through disparate materials to gradually reveal an 'Other'.
Often reanimating popular iconography and myth, Gerwyn's artworks explore photography's potential as a highly plastic performance, a pliable fabrication and narrative enacted then sealed tight.
Gerwyn will be Artist-in-Residence from 30 Oct – 23 Nov 2018 and his self-portraits will be part of the Museum's exciting summer exhibition Dress Code in Gallery One. Visitors are encouraged to come in and say hi during his residency.
Gerwyn Davies is a photographic artist and costume maker who completed his undergraduate studies at the Queensland College of Art and has been a member of academic staff lecturing at both Griffith University and University of New South Wales teaching across photo media. He is currently based in Sydney Australia where he is undertaking his PhD on the intersection of photography, performance and post-production at the University of New South Wales (Art and Design).
Gerwyn has held numerous solo exhibitions including at the Australian Centre for Photography (2018), Jan Murphy Gallery (2018), Ballarat Art Gallery (2018), Singapore International Photography Festival (2018), Gould Galleries (2017), Spiro Grace Art Rooms (2016, 2015, 2013), Brisbane Powerhouse (2014), the Queensland Centre for Photography (2012) and the Bundaberg Regional Art Gallery (upcoming 2019) as well as showing at Photo LA Art Fair (2012, 2011).
Gerwyn is the recipient of the inaugural Australia Council residency and grant and will travel to and work from the Kyoto Arts Centre (Japan) in 2018. His work is held in public collections such as the Gold Coast City Gallery/ Home of the Arts, Redlands Gallery, Artbank and the Queensland Centre for Photography.
Find out more about Museum of Brisbane's Artist-in-Residence program here.
The Artist-in-Residence Program is supported by Mr Tim Fairfax AC and Museum of Brisbane donors.
Image: Gerwyn Davies Plane (2016). Archival ink jet print.