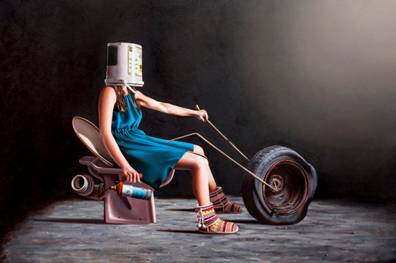 International artist Stephen Johnston's thought-provoking new exhibition 'Observations' explores the relationship between our humanity and the items we use everyday. Johnston paints hyper-realistic figures juxtaposed with banal objects, creating unusual contexts and intriguing compositions.
Johnston has gained a reputation as one of Ireland's most promising young artists, being featured on the front page of the Irish Times. Inspired by artists such as Rene Magritte and Michael Borremans, Johnston touches on surrealism and hyperrealism.
Having studied a Degree of Fine Art and Applied Art at the University of Ulster, UK, Johnston has gone on to have his artwork featured in the prestigious Saatchi Gallery in London and numerous shows throughout Paris, Brussels and London. He has had sell out shows and won a number of awards including the Diageo Emerging Artist Award and The DeVeres Award.
For more information about Stephen Johnston's upcoming exhibition please contact Simone on or

Image: Nowhere Fast, Oil on canvas, 55 x 80cm