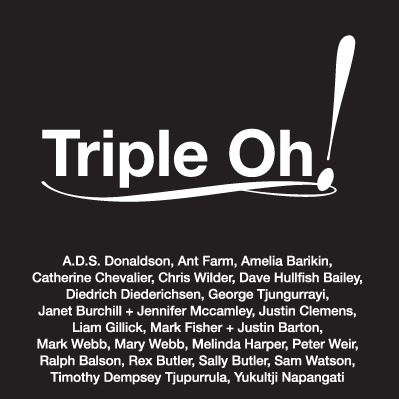 It seems counter-intuitive to put together art — a form or medium dominated since Kant by questions of intentionality — and the object-oriented ontology arising out of the recent philosophical movement of Speculative Realism. However, undoubtedly one of the corollaries of Speculative Realism's unchaining of ontology from "correlationism" — the assumption that reality must somehow correspond to human subjectivity and is only available to it — is the unchaining of art from questions of human intention and purposiveness.
Of course, in some ways this unchaining has been taking place in art since Pop and Minimalism, but at the same time these two movements (and post-modernism in general) have also been the occasion for an ever greater assertion of the artist's intentions: from the "irony" of Warhol to the "meta-intentionality" recently theorised by Michael Fried in relation to Thomas Demand's Pacific Sun (2011). Triple Oh! wants to rethink this break in the connection between art and the question of human subjectivity and proposes an experience that is alternately cosmic and unhomely, coming from the farthest reaches of the universe but also from close at hand.
Comprising a succession of displays that unfold over six months and concluding with a symposium, Triple Oh! will commence with a presentation of paintings by two of Australia's pioneers of abstraction, Ralph Balson and Mary Webb (19 March—12 April). In the late 1950s, a time of extreme romanticism in art, Balson and Webb eschewed this sensibility, their work reflecting a world that no longer had humanity at its centre, but rather a universe of indeterminacy and change. Like the Aboriginal painting that emerged from Australia's Western Desert in the 1970s, it speaks of a non-anthropocentric world in which consciousness is projected beyond the human and suggests other forms of knowledge and experience where man is no longer central to existence. In line with these connections, the opening display will transition into an installation of more contemporary paintings by A.D.S. Donaldson, George Tjungurrayi, Melinda Harper, Timothy Dempsey Tjupurrula, and Yukultji Napangati, presented alongside a video monitor screening Peter Weir's ineffable 'Picnic at Hanging Rock' (16 April—10 May). Then, on the evening of Saturday 17 May, Aboriginal activist and writer Sam Watson will read selected passages from his literary masterpiece 'The Kadaitcha Sung' (Penguin Books, 1990), as a prelude to the Australian premier of Mark Fisher and Justin Barton's haunting audio-visual essay 'On Vanishing Land'. Chris Wilder's 'Project Blue Book', which forged links between Ufology, Land Art, and post-Conceptual practices, will then be paired with documentation from 'The Dolphin Embassy', an experiment in trans-species diplomacy that was partially realized in Australia in 1976–77 by the collaborative art and design group Ant Farm (28 May—28 June). This will be followed by a site-related installation by Mark Webb that connects the past, the future and the domestic with the cosmic (2—26 July), a room of shields by Janet Burchill and Jennifer McCamley (30 July—23 August), and, finally, a new photo-piece from Dave Hullfish Bailey's collaborative 'CityCat Project' (27 August—27 September). The project poster and graphic design are by Liam Gillick.
The Triple Oh! symposium is being organised in conjunction with The University of Queensland Art Museum where it will be held on 26–27 September 2014. The symposium program has been developed with Amelia Barikin (University of Queensland), Rex Butler (University of Queensland) and Justin Clemens (University of Melbourne), each of whom will give presentations, while the German cultural theorist Diedrich Diederichsen (Academy of Fine Arts, Vienna) will deliver the keynote address. Other presenters include Justin Barton (London), Sally Butler (University of Queensland), Catherine Chevalier (May Revue, Paris), and A.D.S. Donaldson (National Art School, Sydney).
For further information, please contact David Pestorius on (07) 3262 4870.