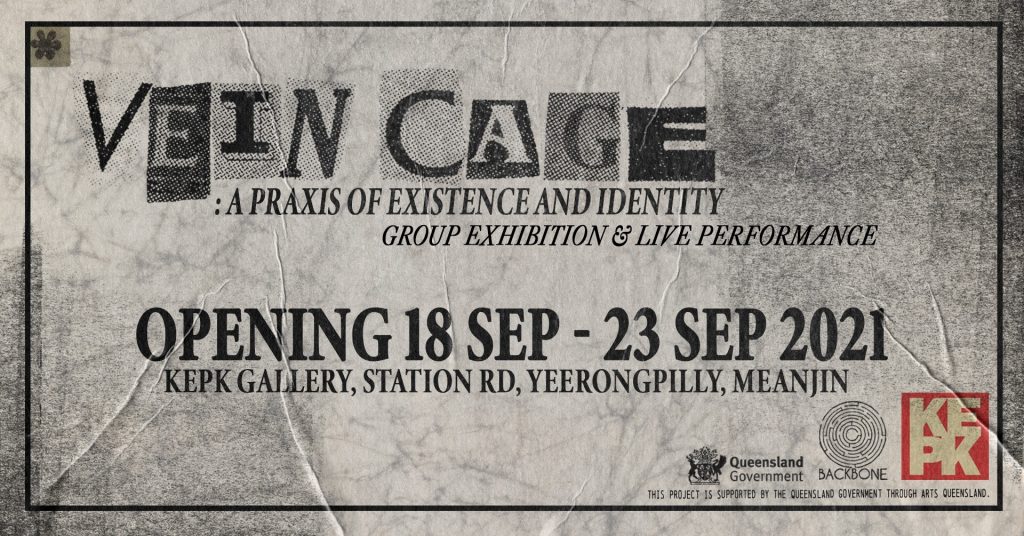 Vein Cage : A Praxis of Existence and Identity, is a Group Exhibition showcasing the diversity and strength of Artists, Musicians and Performers working within the experimental, underground, and emerging scenes in Meanjin. Through the use of a multitude of mediums, such as sculpture, installation, painting, mixed-media, and live sound performances, the artists create a multi-sensory, intimate experience.
The artists explore an array of concepts surrounding themes of Queer Identity, Gender, Culture, Conscious Observation, and Wilful Disruption. This collection of work is relevant to current social and political themes of existentialism and the deconstruction of the human experience, and opens up a conversation of vulnerability, individuality, resilience and presence.
The title 'VEIN CAGE' refers to our mortal bodies, in which we are currently trapped, the praxis of exploring existence, and identity is approached throughout our creative processes, and expressions.
Visual Artists:
Benjamin Ramsey
Des Skordilis
Kit Syvret
Pamela Rosel
Summer Hiskens-Ravest
Wiremu Hohaia
Yvette Ofa Agapow
Live Performances:
Amanda Terry
Moscos
Yvette Ofa Agapow
OPENING NIGHT
Saturday 18 September, 6.30pm-10pm
Donation Entry –
Book Ticket
ARTIST TALKS
Wednesday 22 September, 6.30-8pm
Donation Entry –
Book Ticket
This project is supported by the Queensland Government, through Arts Queensland. Facilitated by Backbone Youth Arts, Young Producers Program. Curated by Summer Hiskens-Ravest.