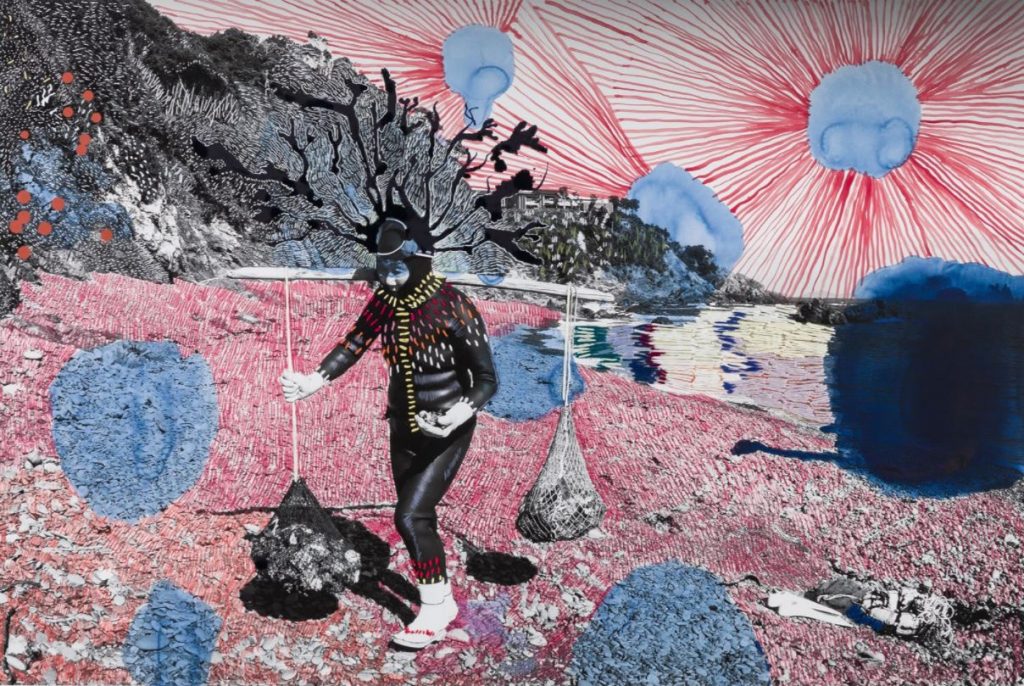 Katsugi (ancient term from Ijika, Japan which can be translated as 'dive' in English) is a two-person exhibition that brings together Japanese Ama diver Aiko Ohno's documentary style photography, and recent works by Zoe Porter featuring depictions of the ama (female free divers) and other plant-human, animal-hybrid forms within otherworldly landscapes. The two artists have collaborated on a series of photographs taken by Ohno, whereby Porter has transformed the ama divers into hybridised, future beings dislocated from their recognisable coastal environment.
The exhibition connects these two artists from different backgrounds and different continents during a time when global travel isn't possible. Within these new works by Porter, there exists imaginary hybrid plant-human creatures and oceanic monsters that coalesce within strange sci-fi, underwater scenes that refer to film, dream states and the impacts of ocean pollution and degradation. The individual works by both artists, and their collaboration, aims to emphasise the significance of the continuation of the ama divers ancient fishing practices, despite current ecological damage. Katsugi also highlights the possibilities for cultural exchange and collaboration, despite being unable to travel internationally.
Catalogue essay writer Linda Dennis states: "This collaboration between Australian artist, Zoe Porter and Japanese ama diver/photographer, Aiko Ohno leads the viewer through creative re-imaginings and re-presentings to introduce us to wonderous and sometimes disquieting new worlds…"
10 December – 18 December 2021
18 January – 29 January 2022
Opening Event: Friday 10 December 2021, 5-8pm
Image: Aiko Ohno & Zoe Porter, Ijika Ama with Awabi Catch, 2021, Digital print on Hahnemuhle paper, ink, watercolour, pencil, embroidery thread. Image – 70.5cm x 100cm. Framed  – 93cm x 126cm. Photo: Joe Ruckli.