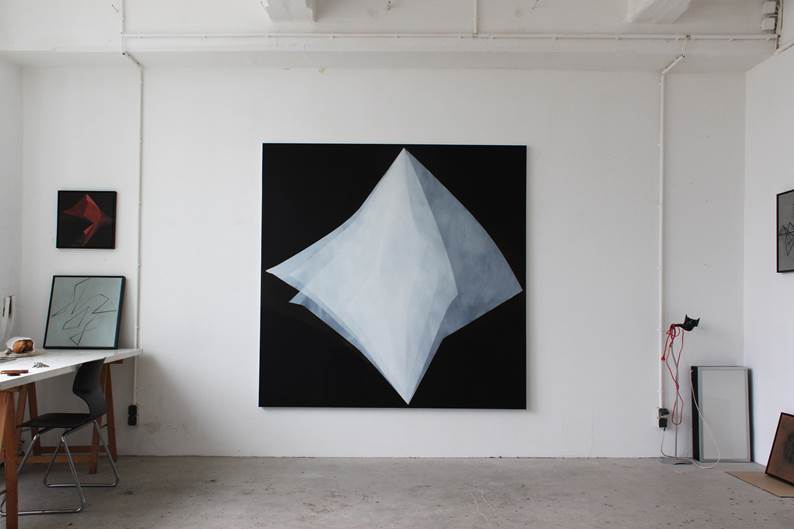 House of Breath is a Moreton Bay Regional Council Art Collection in Perspective exhibition that showcases the quiet monochrome works that have defined the career of Arryn Snowball, an artist with a significant presence in the collection. This exhibition explores the form and formlessness that characterises Snowball's painting and explores the way a painting can be a place for imagination, for philosophy and for a slow and gentle beauty.
Steam, wind, shadow and light are the phenomena that occupy Snowball's paintings and new media works. Whether vapour rising and dispersing, fabric floating on the breeze or objects disappearing into their own shadows, fleeting moments are distilled, transformed and internalised into little self-contained worlds that nonetheless reflect something of this world and perhaps something of ourselves.
Snowball's work is concerned with the play between movement and stillness, structure and fluidity, repetition and rhythm. Little here remains solid or definite. The works hover delicately on the edge of abstraction and rarely insist on a meaning or metaphor, but instead open a space for reflection and contemplation.
In this way, Snowball's art reconfigures itself around the impressions it evokes from the audience. The paintings become vessels for meaning, for the free play of associations. They become an open structure to house thoughts and memories, a bowl that can be filled and emptied and filled again.
Based in South East Queensland, Snowball taught painting at the Queensland College of Art, Griffith University from 2005 to 2012. His work is held in numerous collections, including Moreton Bay Regional Council Art Collection and The National Gallery of Australia. His awards include the Melville Haysom Memorial Art Scholarship (2004), a year in residence at the Tokyo National School of Art and Music (2008) and the Australia Council's residency in Rome (2013).
Image: Arryn Snowball, House of Breath no.1, 2014, oil on linen, 190 x 190cm, image courtesy of Heiser Gallery and the artist.