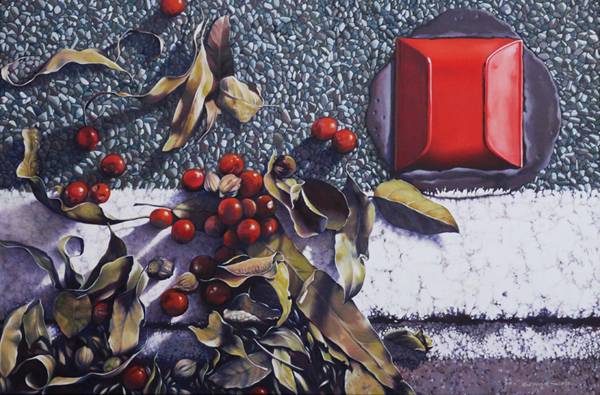 Bronwyn is constantly drawn to the beauty and texture that can be found on the ground along our urban streets. She sees beyond the mundane to capture in great detail the brief moments that reflect the constant interplay between light and colour.
Seasonal changes displayed on our tree-lined streets have been the main focus for her upcoming exhibition 'Brief Encounters'. Taking photos whenever images present themselves at different places and times of the year offer much to inspire the artist. "A gust of wind or cloud passing overhead can alter the image in a split second", says Bronwyn.
Her latest body of work highlights the contrast between leaf litter and street markings. These paintings make a statement about the paradox that exists between the durability of man made urban symbols and the ever-changing cycle of the seasons.
When preparing for this exhibition Bronwyn was asked about her inspiration – "I notice the detail on the ground whenever I move about in public spaces. There is no end to the subject possibilities. For me, inspiration is everywhere. It's a matter of "seeing". I love finding the beauty in the ordinary every day aspect of the urban life."
Born in Brisbane, and trained at the Brisbane College of Art, Bronwyn worked professionally in the art field for more than 25 years, starting as a graphic artist and moving on to exhibition design and illustration. She spent 18 years at the QueenslandMuseum, designing displays and illustrating museum publications. Her paintings in oil on canvas are influenced by her depth of experience in illustrative techniques.
Bronwyn enjoys the challenge of taking ordinary, everyday scenes and interpreting them in her own inimitable and increasingly widely recognized style. Working in oils on canvas, she is currently exploring the relationship between the hard unyielding properties of road utilities, street markings and the fragility and impermanence of natural forms found in leaf litter.
After winning the Lethbridge 10 000 Small Scale Art Award in 2012, Bronwyn has exhibited regularly with Lethbridge Gallery and this body of work is a continuation of the narrative that has become her signature.
In conjunction with this exhibition Bronwyn will hold a hands-on workshop on finding your signature themes and working in oils to achieve striking realistic effects. The workshop will be suitable for beginners and intermediate painters.
For more information about Bronwyn Searle's upcoming exhibition and workshop please contact Carly on 0414 943 485 or gallery@lethbridgegallery.com