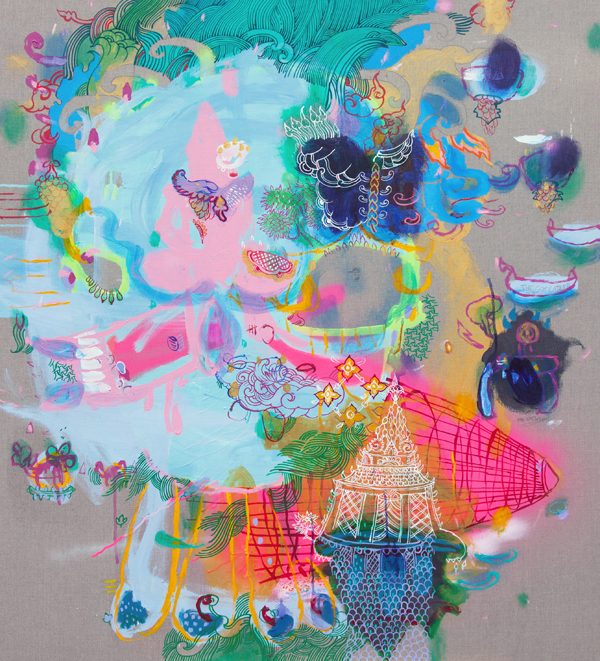 In this new work I have created abstract landscapes through layers of colour. The landscapes represent the imaginary worlds of my childhood. Worlds I imagined and played in. Worlds that were inspired by things around me: rivers, creeks, trees, plants and animals.
On top of the layers of colour, I have painted the little things I remember using in this type of imaginary play. Things that my family used in everyday life like nets, mortar and pestle, fruit peelers and rice steamers. I would use these items and reimagine them as precious things or characters in my secret world.
In my imagination, the small muddy creek near my house would become a vast, beautiful secret world and I would play for hours and hours by myself. No one ever understood how I could spend all day there, or why I would play in the same water with the buffalos. But to me it was beautiful. In those worlds I felt calm, free, safe and protected. Even though I was alone, I felt a part of something, something much bigger than me.
With this new work, I wanted to recreate that feeling. I wanted to create inspiring, harmonious spaces where the possibilities are endless. Spaces that make you feel free, safe and protected. For this reason, this work is much more personal than my previous work. My older work was an attempt to make sense of the world around me. With this work I am making sense of myself.
Bundit Puangthong August 2016
Image: BEAUTIFUL TRAP 2016