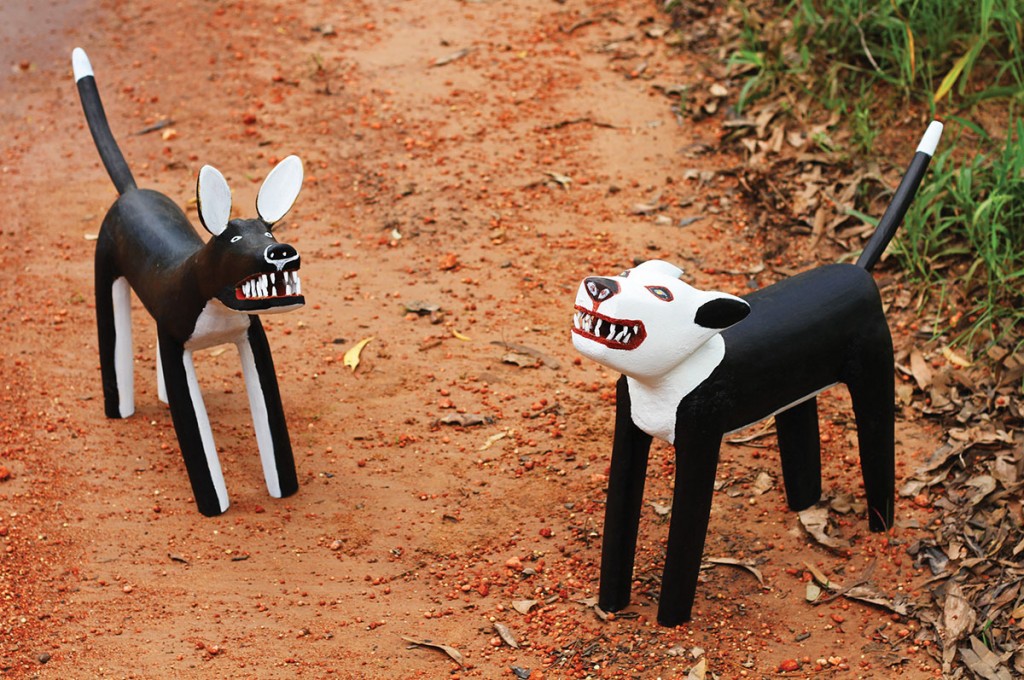 Dogs. Why a show on dogs? What kind of cues does a show centred around dogs send out? Too much potential for cuteness, the vernacular, the sentimental. Too much probability of strained humour – of clichés and corniness. Too much evidence of easy anthropomorphisms as a way of revealing human traits.
And yet the representations of dogs in this exhibition, no matter how matter-of-fact, how personal or eccentric or every-day, will fall within an age-old urge to represent the dog as a guardian of the invisible lines that separate realms. We look into the eyes of dogs and see both reflections of ourselves and reflections of what we might lose or that we might have already lost.
~ Pat Hoffie (essay extract)
Artists: Anthony Frederick Ward, Annete Hale, David Spooner, Euan Macleod, Gina Allain, Glen O'Malley, Glenn Morgan, Ian Smith, Jonathan McBurnie, Pat Hoffie, Peter Hudson, Ron McBurnie, Sally Duhig, Sally Molloy, Stephen Nothling, Sue Ryan, Zoe Porter, Andrew Moynihan, Cal Schenkel, James Watts, Garry Namponan, Bevan Namponan, Leigh Namponan, David Marpoondin & Roderick Yunkaporta.
Photograph by Lucy Bond, courtesy of Wik and Kugu Art Centre (Aurukun)
Euan Macleod appears courtesy of Victor Mace Fine Art Gallery
Ron McBurnie appears courtesy of grahame galleries + editions
Ian Smith appears courtesy of Heiser Gallery